USA EDITION
MONDAY, AUGUST 17, 2020
TOP NEWS
• Democrats to open virtual convention with a show of unity for Biden
Democrats will kick off a four-day virtual convention with a display of party unity for U.S. presidential candidate Joe Biden and the broad coalition aiming to defeat Republican President Donald Trump in November.
• Sanofi snags another U.S. biotech firm with $3.7 billion deal for Principia Biopharma
Sanofi is set to buy U.S.-based Principia Biopharma for around $3.7 billion, the companies announced, marking the French drugmaker's latest acquisition in the U.S. biotech sector.
•
PREVIEW-Walmart results expected to show improved margins, online sales​
Walmart's margins and online sales are expected to benefit in the second quarter as the largest U.S. retailer cashed in on shoppers using government stimulus checks to buy higher-priced products like sneakers and toys along with daily essentials.
• Netflix tools up in SE Asia as Disney+ Indonesia launch sets scene for streaming battle
U.S streaming giant Netflix is ramping up its mobile-only subscription plans in Southeast Asia and expanding local content, senior executives told Reuters, just as arch-rival Disney arrives in the fast-growing market.
•
Shale driller Chaparral Energy files for bankruptcy due to pandemic woes
Oklahoma shale driller Chaparral Energy filed for Chapter 11 bankruptcy protection on Sunday, the latest U.S. energy sector casualty in recent months as COVID-19 crushes oil demand.
BEFORE THE BELL
Wall Street futures
rose as investors expected better earnings numbers from retailers this week and they were also optimistic on Washington reaching an agreement on fresh stimulus to prop up the economy. European shares edged up as China-exposed miners gained and Chinese shares were up after China's central bank provided more medium-term loans to the country's financial system. Gold prices were higher helped by a weaker dollar. Oil prices declined.
STOCKS TO WATCH
Deals Of The Day
• Principia Biopharma Inc (PRNB). Sanofi is set to buy U.S.-based Principia Biopharma for around $3.7 billion, the companies announced, marking the French drugmaker's latest acquisition in the U.S. biotech sector. Sanofi is set to buy the outstanding shares of Principia for $100 per share in cash, representing an aggregate equity value of around $3.68 billion on a fully diluted basis and a premium of 10% to Principia Biopharma's closing price of $90.74 on Aug. 14. "This acquisition advances our ongoing R&D transformation to accelerate development of the most promising medicines that will address significant patient needs," said Sanofi Chief Executive Paul Hudson. Sanofi said it expected to complete the acquisition of the U.S. firm, which is developing treatments for multiple sclerosis among other projects, in the fourth quarter of 2020. "The merger will provide global resources to get these novel therapies to patients faster," said Martin Babler, president and chief executive at Principia Biopharma.
In Other News
• Alphabet Inc (GOOGL). Google criticised proposed Australian antitrust laws, saying its free search service would be "at risk" and users' personal data could be shared if it is made to pay news organisations for their content. The company said the proposed laws would also help big media companies artificially inflate their search rankings, luring more viewers to their platforms and giving them an unfair advantage over small publishers and users of Google's YouTube streaming website. "You've always relied on Google Search and YouTube to show you what's most relevant and helpful to you," Google Australia Managing Director Mel Silva wrote in the open letter. "We could no longer guarantee that under this law." The proposed law "wouldn't just impact the way Google and YouTube work with news media businesses - it would impact all of our Australian users" she wrote.
• Amazon.com Inc (AMZN). Germany's anti-trust authority has launched an investigation into Amazon's relationship with third-party traders selling on its site, its head was quoted as saying on Sunday. "We are currently investigating whether and how Amazon influences how traders set prices on the market-place," Andreas Mundt, President of the Federal Cartel Office, told the Frankfurter Allgemeine Zeitung daily. During the first few months of the COVID-19 pandemic, when many stores were closed and shoppers flocked online, Mundt said there had been complaints that Amazon had blocked some traders because of allegedly overly high prices. "Amazon must not be a controller of prices," he said, adding that Amazon had responded to his office's requests for information and those statements were being evaluated. An Amazon spokeswoman said the company's policies were designed to make sure its partners set competitive prices.
• Berkshire Hathaway Inc (BRKa). Warren Buffett's Berkshire Hathaway said on Friday it has sold shares of some of the largest U.S. banks, slashing its stakes in Wells Fargo and JPMorgan and exiting an investment in Goldman Sachs. In a regulatory filing detailing its U.S.-listed investments as of June 30, Berkshire also disclosed a new 20.9 million share investment worth $563.6 million in Barrick Gold, one of the world's largest mining companies. Shares of Barrick have benefited from rising gold prices, which set a record last week, and rose 3.2% in after-hours trading following Berkshire's disclosure. Barrick did not immediately respond to a request for comment. Berkshire reduced its Wells Fargo stake by 26% in the quarter to 237.6 million shares.
• Chaparral Energy Inc (CHAP). The Oklahoma shale driller filed for Chapter 11 bankruptcy protection on Sunday, the latest U.S. energy sector casualty in recent months as COVID-19 crushes oil demand. The company's assets and liabilities were in the range of $500 million to $1 billion, according to a court filing in the U.S. Bankruptcy Court in Delaware. It had around $421 million of debt outstanding at the end of 2019. Chaparral said it will restructure its balance sheet by equitizing all $300 million of its unsecured debt and will operate during the bankruptcy process with the help of $32 million in cash on hand as of Aug. 14 and operating cash flow.
• CureVac BV (CVAC). The German biotechnology firm does not rule out a speedy approval process for its prospective vaccine against COVID-19, its chief executive was quoted as saying on Sunday. The company said on Friday that it expects to put its vaccine on the market by mid-2021. Obtaining speedy approval suggests the company is pushing for an earlier release date although CEO Franz-Werner Haas did not give any details on how likely this was. "We are not ruling out accelerated approval, but this can only be achieved in close cooperation with the authorities," Haas told the Boerse Online financial website. The results of the recently started clinical trials of the company's prospective vaccine are to be published in autumn, Haas said, reiterating that at the moment approval was expected in the first half of next year. "We see a deeper and broader understanding in the United States that the mRNA technology we use has the potential to quickly develop an effective and efficient vaccine," Haas said.
• Facebook Inc (FB). Indian politicians are trading barbs over a media report that Facebook's content policies favoured Prime Minister Narendra Modi's party, putting the social network at the centre of a political storm in its biggest market by users. Lawmakers of Modi's Bharatiya Janata Party (BJP) have accused the social media giant of censoring nationalist voices, after the opposition Congress seized on a Wall Street Journal report to seek a parliamentary investigation of Facebook employees' alleged ties with the ruling party. Facebook, which has more than 300 million users in India, referred on Monday to a weekend statement that said it prohibited hate speech irrespective of one's political position but acknowledged, "There is more to do."
• International Business Machines Corp (IBM). The company announced a new processor chip for data centers that it says will be able to handle three times the workload of its predecessor. The IBM-designed Power10 chip will be manufactured by Samsung Electronics and is meant for use by businesses inside data centers, IBM said. The chip will use Samsung's 7-nanometer chip manufacturing process, which is similar to the 7-nanometer technology that Advanced Micro Devices uses to have its chips made by Taiwan Semiconductor Manufacturing Co. IBM said that the Power10 chip has been designed to be faster at artificial intelligence computing tasks than its predecessor, doing such work up to 20 times faster than its previous generation of chip.
• Netflix Inc (NFLX). The U.S streaming giant is ramping up its mobile-only subscription plans in Southeast Asia and expanding local content, senior executives told Reuters, just as arch-rival Disney arrives in the fast-growing market. The world's biggest video streaming platform by paid customers, Netflix told Reuters more than a million of its nearly 200 million subscribers around the world are in Southeast Asia, home to around 655 million people. But the market is ripe for rapid growth, analysts say, with the Disney+ Hotstar launch in Indonesia next month set to become a key battleground. "What we see in Southeast Asia is that it's a very mobile-centric market", Netflix director for product innovation Ajay Arora told Reuters in a recent interview. That's led the company to push cheaper mobile plans and adapt its product to fit lower-end smartphones, Arora said.
• PG&E Corp (PCG). The San Francisco-based power provider said on Friday it had conducted rotating power outages at the direction of California's grid operator, impacting about 200,000 to 250,000 customers at a time, given the strain on the power grid during the statewide heatwave. The company said in a statement it was not calling a public safety power shut-off, which is conducted during specific high fire threat conditions. PG&E said its outages, directed by the California Independent System Operator, were expected to impact up to 250,000 customers at a time in rotations of one hour each. In a separate statement issued before midnight local time, the company said it had completed the power outages.
• United Parcel Service Inc (UPS) and FedEx Corp (FDX). United Parcel Service and FedEx on Friday shot down social media calls that they step in to deliver mail-in ballots from the U.S. Postal Service, which is warning states of potentially "significant" delays. "State ballots must be postmarked to be considered valid and only the USPS has lawful postmarking status. Therefore UPS, FedEx and other private parties cannot technically be involved in shipping ballots," UPS told Reuters in a statement. "FedEx does accept individual ballots, and we advise that customers planning to return their ballots via FedEx should closely review their state's guidelines on absentee voting and deadlines for ballots or related election documents," FedEx said. The Postal Service said on Friday it has written to 46 states and the District of Columbia warning there is a significant risk voters will not have enough time to complete and return their ballots.
ANALYSIS
In lawsuit, 'Fortnite' maker to test idea of iPhone as market unto itself
'Fortnite' maker Epic Games has launched the most significant effort yet to advance the legal theory that Apple's iPhone ecosystem has become so "sticky" that it is a distinct software market over which Apple exercises monopoly power. On Thursday Epic filed a lawsuit in federal court after Apple pulled "Fortnite" from its App Store to punish Epic for implementing a payment mechanism that bypassed Apple's practice of taking a 30% commission on in-app purchases.
ANALYSTS' RECOMMENDATION
• Humana Inc (HUM). RBC raises target price to $420 from $388, saying the company benefited from robust sales growth in retail and healthcare services segments.
• Livongo Health Inc (LVGO). Canaccord Genuity raises target price to $139 from $110, following the company's strong second-quarter results.
• NVIDIA Corp (NVDA). Oppenheimer raises target price to $500 from $400, citing the company's sustained top-line growth, driven by higher demand in gaming, datacenter and autonomous vehicles.
• Uber Technologies Inc (UBER). Zephirin Group cuts target price to $19 from $27, noting the company's falling ridership and slower economic growth.
• United Parcel Service Inc (UPS). Baird raises target price to $160 from $150, reflecting on the company's potential margin improvement and better return on capital.
ECONOMIC EVENTS (All timings in U.S. Eastern Time)
0830 NY Fed Manufacturing for Aug: Expected 15.00; Prior 17.20
1000 NAHB Housing Market Index for Aug: Expected 73; Prior 72
COMPANIES REPORTING RESULTS
No major S&P 500 companies are scheduled to report.
CORPORATE EVENTS
No major events are scheduled.
EX-DIVIDENDS
Apollo Global Management Inc (APO). Amount $0.49
Bio-Techne Corp (TECH). Amount $0.32
Cable One Inc (CABO). Amount $2.50
Carlisle Companies Inc (CSL). Amount $0.52
Phillips 66 (PSX). Amount $0.90
Welltower Inc (WELL). Amount $0.61
(All analysts' estimates are according to I/B/E/S Refinitiv data)
PICTURE OF THE DAY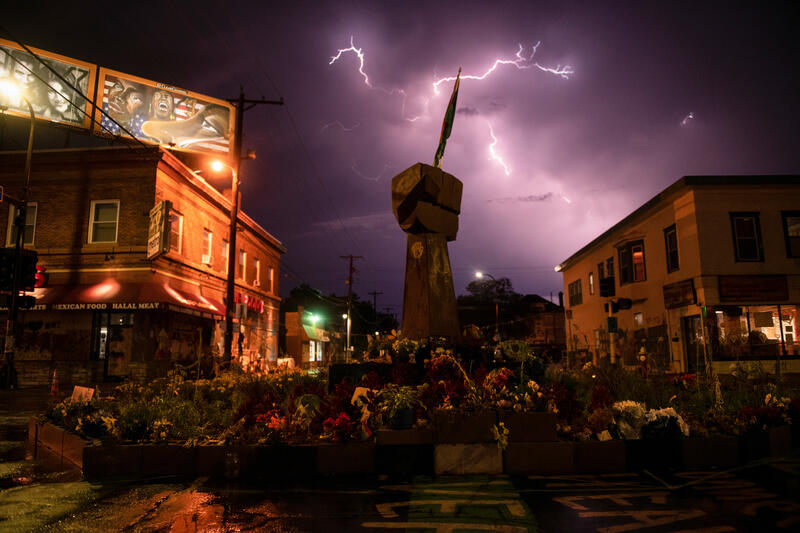 Lightning strikes above the George Floyd memorial in Minneapolis, Minnesota, U.S., August 14, as racial justice protests continue across the country. Brandon Bell/Handout via REUTERS