USA EDITION
THURSDAY, AUGUST 20, 2020
TOP NEWS
• Several Fed policymakers see more easing ahead to help brace economy
Several Federal Reserve policymakers say the U.S. central bank may need to ease monetary policy further to help nurse the economy through the coronavirus pandemic, minutes from their policy meeting last month showed on Wednesday.
• China's Alibaba beats quarterly revenue, profit estimates
China's Alibaba beat quarterly revenue and profit estimates as its core commerce and cloud computing businesses benefited from a shift to online shopping and working from home due to the coronavirus crisis.
• China, United States agree to hold trade talks, Chinese commerce ministry says
China and the United States have agreed to hold trade talks "in the coming days" to evaluate the progress of their Phase 1 trade deal six months after it took effect in February, the Chinese commerce ministry said.
• After decades in politics, Joe Biden to accept Democratic presidential nomination
In the biggest speech of his nearly 50 years in public life, Joe Biden will spell out his vision for the presidency when he accepts the Democratic nomination to challenge Donald Trump in the Nov. 3 U.S. election.
• Airbnb files for IPO as short-term rental market rebounds
Short-term home rental company Airbnb said on Wednesday it filed confidentially for an initial public offering with U.S. regulators, setting the stage for one of 2020's marquee U.S. stock market debuts.
BEFORE THE BELL
U.S. stock index futures fell as investors cautiously awaited the weekly jobless claims report, a day after the Federal Reserve signaled an arduous recovery for the world's largest economy. Asian and European markets slipped as minutes from Fed's latest meeting sparked risk-off mood globally. The dollar made gains, while U.S. gold futures dropped. Oil fell, as OPEC+ producers warned of a risk to demand recovery.
STOCKS TO WATCH
Results
•
Alibaba Group Holding Ltd (BABA).The e-commerce company beat quarterly revenue and profit estimates as its core commerce and cloud computing businesses benefited from a shift to online shopping and working from home shift since the start of the coronavirus crisis. Sales from the company's core commerce business jumped 34% to 133.32 billion yuan in the three months ended June.​ Excluding items, the company earned 14.82 yuan per American depository share (ADS). Analysts had expected 13.78 yuan per ADS. Revenue rose to 153.75 billion yuan in the first quarter ended June 30 from 114.92 billion yuan, a year earlier. Analysts had expected revenue of 147.77 billion yuan.​
•
L Brands Inc (LB). The company on Wednesday reported a surprise quarterly profit boosted by strong demand for Bath & Body Works' sanitizers and soaps, as well as higher online sales of Victoria's Secret lingerie during coronavirus-led lockdowns. The pandemic-fuelled temporary store closures led to 850 jobs cuts at L Brand's home office and permanent closing of some Victoria's Secret stores, after a stake sale in the unit fell apart. Overall comparable sales rose 63% for L Brands, crushing the average analyst estimate of an 18% fall. Excluding one-time items, the company earned 25 cents per share in the quarter ended Aug. 1, compared with the expectation of a 42 cents loss. Net sales fell about 20% to $2.32 billion, but were above Wall Street estimates of $2.21 billion.
• Nvidia Corp (NVDA). The company forecast third-quarter sales above expectations on Wednesday, but results from the data center business of the rising semiconductor industry star disappointed some investors, pressuring shares. Nvidia said it expects third-quarter revenue of $4.40 billion, plus or minus 2%, compared with analysts' estimates of $3.97 billion. The company's data center segment reported second-quarter revenue of $1.75 billion beating estimates of $1.71 billion, according to FactSet data. Revenue rose nearly 50% to $3.87 billion in the second quarter, above estimates of $3.65 billion. Net income rose to $0.99 per share, in the quarter, from $0.90 per share, a year earlier.
In Other News
• Baker Hughes Co (BKR), Chevron Corp (CVX), General Electric Co (GE) & Honeywell International Inc (HON). Five U.S. firms including Chevron signed agreements on Wednesday with the Iraqi government aimed at boosting Iraq's energy independence from Iran as the Iraqi prime minister prepared to make his first visit to the White House on Thursday. The U.S. Department of Energy in a statement said that Honeywell, Baker Hughes, General Electric, Stellar Energy and Chevron signed commercial agreements worth as much as $8 billion with the Iraqi ministers of oil and electricity. "These deals are key to Iraq's energy future, and I am confident that the same companies that have empowered the United States to become energy independent will deploy their deep expertise to help Iraq achieve its full potential in the energy sector," U.S. Energy Secretary Dan Brouillette said.
•
CureVac NV (CVAC). The European Commission and German biotech firm said they were in advanced talks for the supply of at least 225 million doses of a potential COVID-19 vaccine to EU states. "Today we concluded talks with...CureVac to increase the chances of finding an effective coronavirus vaccine," EU Health Commissioner Stella Kyriakides said, confirming a Reuters report in July. The EU will now begin negotiating a contract with CureVac, which could be the company's first bilateral supply deal, aimed at securing the vaccine for all 27 EU member states should the shot prove safe and effective. CureVac said the talks included an option to supply 180 million additional doses. CureVac said it could start large-scale human trials on its vaccine in the last quarter of this year based on results of its current trials.
• Facebook Inc (FB).The social media company won preliminary approval late on Wednesday from a federal court for settlement of a lawsuit that claimed it illegally collected and stored biometric data of millions of users without their consent. The revised settlement agreement resolved the court's concerns, leading to the preliminary approval of the class action settlement, Judge James Donato wrote in an order filed in the U.S. District Court for the Northern District of California. "Preliminary approval of the amended stipulation of class action settlement, Dkt. No. 468, is granted, and a final approval hearing is set for January 7, 2021," the judge said in the eight-page order.
• InterContinental Hotels Group PLC (IHG). Shares in France's Accor rallied after Le Figaro newspaper reported it had examined a potential merger with British rival IHG that would create the world's biggest hotel group. Le Figaro said no formal approach had been made by Accor, which is behind brands such as Ibis and Movenpick, to IHG, which owns Holiday Inn and Crowne Plaza. Based on current prices, a combined firm could have a market value of about $17 billion. Without citing sources, it added Accor's management board was in favour of a deal, but Accor chairman and CEO Sebastien Bazin, who had set up an internal taskforce on the matter, was more cautious about moving ahead. An Accor spokeswoman said the company did not comment on market rumours. IHG declined to comment.
• IQIYI Inc (IQ). Taiwan plans to stop local sales for Chinese internet television streaming services operated by the likes of iQiyi and Tencent Holdings, according to regulations released this week, but does not plan on blocking the services. The Ministry of Economic Affairs said late Tuesday the rules barring Taiwanese companies from selling or operating as sales agents for Chinese internet streaming services will take effect September 3. "People can still watch and pay for overseas subscriptions," commission deputy chief Wong Po-Tsung told Reuters, adding that officials would ensure subscribers' rights are not affected.
• Nio Inc (NIO). The Chinese electric vehicle maker has launched a battery leasing service that will allow drivers to buy an EV without owning the battery pack - one of the most expensive EV components - thereby lowering the starting price of its cars. The service, called "battery as a service" (BaaS), entails drivers paying a monthly rental fee for use of the batteries. "We believe with BaaS, more customers of gasoline cars will consider electric vehicles," Nio's chief executive William Li told reporters. Li also said the firm hoped to enter some international markets from the second half of next year starting with some European countries. He added the firm aimed to enter more markets from 2022. The batteries for Nio's leasing service will be supplied by a company established by Chinese battery makers including leader Contemporary Amperex Technology.
• Xilinx Inc (XLNX). The Silicon Valley company and Subaru on Wednesday said the Japanese automaker will use one of the company's chips to power a new driver-assistance system that will let drivers go hands-free during traffic jams, among other new features. The companies said Subaru's forthcoming Levorg, a midsized hatchback vehicle, will use one of Xilinx's "Zynq" chips in a new version of its "EyeSight" driver-assistance system. The system uses two cameras to get a stereo field of view of the road and combines that data with input from radar sensors mounted around the vehicle rather than using more expensive sensors such as lidar, which uses laser light to measure the car's distance away from objects. Xilinx's chip will provide the processing power for the camera images, the companies said.
ANALYSIS
In U.S.-China tech war, investors bet on China's localisation push
As the U.S.-China "tech war" widens, investors are betting on China's efforts to replace U.S. technologies with indigenous applications to run networks in the state sector.
ANALYSTS' RECOMMENDATION
• Lowe's Companies Inc (LOW). RBC raises price target to $188 from $165, stating that the company gained 35% sales in the U.S. and reported solid second quarter results.
• Nvidia Corp (NVDA). Credit Suisse raises price target to $530 from $425, after the company's second-quarter earnings beat Wall Street estimates and forecast third-quarter sales above expectations.
• Sarepta Therapeutics Inc (SRPT). Credit Suisse cuts rating to neutral from outperform, citing clinical uncertainties related to its SRP-9001 gene therapy study.
• Synopsys Inc (SNPS). JPMorgan raises price target to $230 from $180, saying that the company reported solid third-quarter earnings results.
• Target Corp (TGT). JPMorgan raises price target to $169 from $154, stating that the company's second-quarter earnings results beat the most bullish expectations on Wall Street.
ECONOMIC EVENTS (All timings in U.S. Eastern Time)
0830 Initial jobless claim: Expected 925,000; Prior 963,000
0830 Jobless claim 4-week average : Prior 1,252,750
0830 Continued jobless claim: Expected 15.000 mln; Prior 15.486 mln
0830 (approx.) Philly Fed Business Index for Aug: Expected 21.0; Prior 24.1
0830 (approx.) Philly Fed 6M Index for Aug: Prior 36.00
0830 (approx.) Philly Fed Capex Index for Aug: Prior 26.60
0830 (approx.) Philly Fed Employment for Aug: Prior 20.10
0830 (approx.) Philly Fed Prices Paid for Aug: Prior 15.70
0830 (approx.) Philly Fed New Orders for Aug: Prior 23.00
1000 (approx.) Leading index change mm for Jul: Expected 1.1%; Prior 2.0%
COMPANIES REPORTING RESULTS
Keysight Technologies Inc (KEYS). Expected Q3 earnings of 83 cents per share
Ross Stores Inc (ROST). Expected Q2 loss of 26 cents per share
CORPORATE EVENTS (All timings in U.S. Eastern Time)
0830 BJ's Wholesale Club Holdings Inc (BJ). Q2 earnings conference call
0830 Nordson Corp (NDSN). Q3 earnings conference call
0900 L Brands Inc (LB). Q2 earnings conference call
0930 Estee Lauder Companies Inc (EL). Q4 earnings conference call
1200 Amerco (UHAL). Annual Shareholders Meeting
1615 Ross Stores Inc (ROST). Q2 earnings conference call
1630 Keysight Technologies Inc (KEYS). Q3 earnings conference call
EXDIVIDENDS
Cognizant Technology Solutions Corp (CTSH). Amount $0.22
Cummins Inc (CMI). Amount $1.31
FLIR Systems Inc (FLIR). Amount $0.17
Hershey Co (HSY). Amount $0.80
Microchip Technology Inc (MCHP). Amount $0.36
Otis Worldwide Corp (OTIS). Amount $0.20
Primerica Inc (PRI). Amount $0.40
Sherwin-Williams Co (SHW). Amount $1.34
Tetra Tech Inc (TTEK). Amount $0.17
(All analysts' estimates are according to I/B/E/S Refinitiv data)
PICTURE OF THE DAY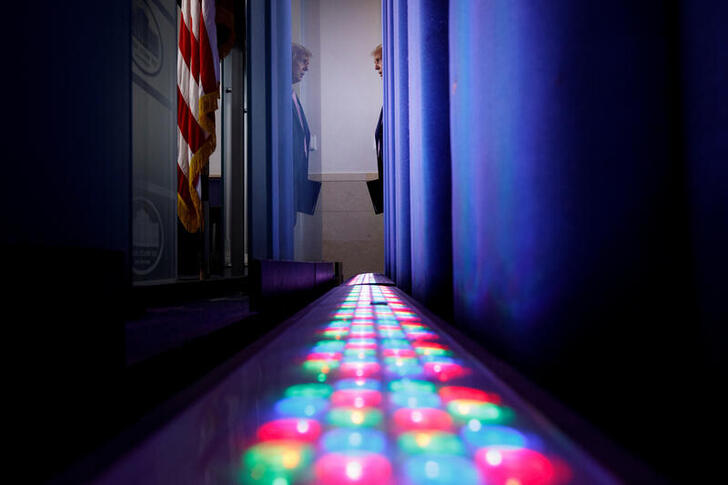 U.S. President Donald Trump approaches a podium before the start of a news conference at the White House in Washington, U.S., August 19. REUTERS/Tom Brenner