USA EDITION
FRIDAY, OCTOBER 9, 2020

TOP NEWS
• Trump maps return to campaign trail after White House says COVID-19 treatment complete
Republican President Donald Trump prepared to return to the campaign trail with a pair of weekend rallies after his COVID-19 diagnosis sidelined him for a week in the race against Democratic nominee Joe Biden for the White House.
• Esports-IBM inks first-ever esports deal with OWL
International Business Machines will make its bow in the esports industry after signing a multi-year deal with the Overwatch League, the world's first global esports league with city-based teams across Asia, Europe, and North America.
• Investors' bets on a Democratic sweep grow after Biden debate performance
The debate between Democratic presidential candidate Joe Biden and President Donald Trump, marred by frequent interruptions and name-calling, did little to enlighten the electorate. But it was enough to turn the consensus on Wall Street toward Biden.
• Wells Fargo says diversity initiatives comply with U.S. laws after Labor Dept letter
Wells Fargo said that its diversity initiatives comply with federal employment laws after it received a letter from the U.S. Labor Department questioning whether the steps were unlawful or discriminatory.
• "Food is the best vaccine against chaos"; UN food agency WFP wins Peace Nobel
The United Nations food agency, the World Food Programme (WFP), won the Nobel Peace Prize for its efforts to combat hunger and improve conditions for peace in areas affected by conflict.
BEFORE THE BELL
Wall Street futures were in the green as hopes for more fiscal aid boosted optimism. European stock markets gained on rosy earnings forecasts. Japan's Nikkei posted its biggest weekly gain in two months. Gold jumped, as the dollar weakened and renewed negotiations for U.S. stimulus prompted investors to buy bullion as a hedge against inflation. Oil prices were in the red.
STOCKS TO WATCH
• Advanced Micro Devices Inc (AMD) & Xilinx Inc (XLNX). AMD is in advanced talks to buy rival chip maker Xilinx in a deal that could be valued at more than $30 billion, the Wall Street Journal reported late Thursday, citing people familiar with the matter. A deal, which could mark the latest big tie-up in the rapidly consolidating semiconductor industry, can come together as soon as next week, the newspaper reported. A spokeswoman for Xilinx declined to Reuters request for comment, while AMD did not immediately respond.
• Amazon.com Inc (AMZN). The company has invested $95.51 million in its Indian payments unit, ahead of the festive season, data from business intelligence firm Tofler showed. Amazon will begin its festive season sales on Oct. 17, and has been trying to encourage payments through Amazon Pay with cashbacks and other rewards. Both Amazon and Flipkart offer deep discounts on everything from clothes, smartphones to home appliances ahead of key Hindu festivals Dussehra and Diwali.
• Gilead Sciences Inc (GILD). Final data from the company's antiviral drug remdesivir showed the treatment cut COVID-19 recovery time by five days compared with patients who got a placebo, one day faster than indicated in preliminary data, the company and researchers said on Thursday. In patients who were on oxygen when they first got the drug, remdesivir - sold under the brand Veklury - reduced recovery time by seven days compared with placebo after 29 days, according to the 1,062-patient study, published in the New England Journal of Medicine. The final study looked at data at 29 days of treatment, versus a preliminary study released in May that reported results after 15 days.
• Honda Motor Co (HMC). The company is redesigning the looks and the marketing for its sport utility vehicles and trucks to appeal to U.S. consumers who are paying premiums for rival automakers' vehicles that offer a more rugged, off-road adventure image. More than 70% of vehicles sold in the United States last year were midsize trucks and SUVs, while 53% of Hondas sold fit those categories. Honda does not sell a large pickup that competes with the Ford F-150, and is therefore shut out of one of the U.S. market's most profitable segments. Honda on Thursday unveiled a new look for its midsize Ridgeline pickup, giving the vehicle a bigger grille and other off-road cues. A new advertising campaign launching on Friday shows the Ridgeline hauling dirt bikes and charging down unpaved roads in the Rocky Mountains. Former wrestler John Cena gives the ads a "tough guy" voice.
• HSBC Holdings PLC (HSBC). The company will target net zero carbon emissions across its entire customer base by 2050 at the latest, and provide between $750 billion and $1 trillion in financing to help clients make the transition, Chief Executive Noel Quinn told Reuters. The pledge is the strongest statement by Europe's biggest bank on climate change to date, although it met with criticism from some environmental groups for not taking more immediate action to curb its fossil fuel financing. "COVID has been a wake-up call to us all, including me personally. We have seen how fragile the global economy is to a major event, in this case a health event, and it brings home the reality of what a major climate event could do," Quinn told Reuters in a video interview.
• International Business Machines Corp (IBM). The company will make its bow in the esports industry after signing a multi-year deal with the Overwatch League, the world's first global esports league with city-based teams across Asia, Europe, and North America. The sponsorship component of the deal kicks off at this year's Overwatch League Grand Finals, which runs from Oct. 8-10, and covers the 2021 and 2022 Overwatch League seasons. As part of the agreement, IBM and the Overwatch League will work towards developing solutions to improve the league's rankings system, and create live and in-broadcast predictive analysis.
• Liberty Global PLC (LBTYA). Liberty Global cleared a key hurdle in its all-cash $7.43 billion tender for Switzerland's Sunrise Communications, with provisional results showing an acceptance rate of nearly 82%. In the surprise deal announced in August, Liberty Global offered 110 Swiss francs per share in Sunrise, Switzerland's No. 2 telecoms company. One condition was that it get at least two thirds of the shares. An additional acceptance period now runs until Oct. 28. Liberty Global intends to initiate a squeeze-out procedure and delist Sunrise shares from trading on the SIX Swiss Exchange once the deal is set.
• Nokia Oyj (NOK). Orange and Proximus have picked Nokia to help build 5G networks in Belgium as they drop Huawei amid U.S. pressure to exclude the Chinese firm from supplying key telecoms equipment. The moves are among the first by commercial operators in Europe to drop Huawei from next-generation networks and come after months of diplomatic pressure from Washington, which alleges Huawei equipment could be used by Beijing for spying. The deals to supply radio gear to Orange Belgium and Proximus are a boost for Nokia, which struggled to make headway in the 5G market earlier this year even as Huawei was under pressure.
• Takeda Pharmaceutical Co Ltd (TAK). The company said an alliance of drugmakers it spearheads has enrolled its first patient in a global clinical trial of a blood plasma treatment for COVID-19 after months of regulatory delays. The phase 3 trial by the group, known as the CoVIg Plasma Alliance, aims to enroll 500 adult patients from the United States, Mexico and 16 other countries, according to a statement. Patients will be treated with Gilead Science's Remdesivir alongside the plasma treatment, which will be provided by CSL Behring, Takeda and two other companies.
• Wells Fargo & Co (WFC). The company said that its diversity initiatives comply with federal employment laws after it received a letter from the U.S. Labor Department questioning whether the steps were unlawful or discriminatory. The Wall Street Journal newspaper reported on Thursday that the Labor Department is probing companies with federal contracts which have specific goals to increase diversity. The department's Office of Federal Contract Compliance Programs (OFCCP) has sent a letter to Wells Fargo, a company spokesman said late on Thursday. "Wells Fargo is committed to and taking action to become a more diverse and inclusive company. Numerous efforts are underway to implement changes at all levels of the company, and we are confident that they comply with U.S. employment laws", the spokesman said.

FOCUS
'Treasuries on steroids': U.S. banks' mortgage bond trading bonanza
Wall Street banks are on track for a record year of revenue from trading U.S. government-backed mortgage debt, industry sources told Reuters, amid a surge in demand - from the Federal Reserve in its battle against the pandemic, and from investors hunting yield.
ANALYSTS' RECOMMENDATION
•
Hercules Capital Inc (HTGC). Piper Sandler raises target price to $13 from $12, citing the company's attractive balance sheet and its portfolio strength through the pandemic.
• Hexcel Corp (HXL). Credit Suisse cuts target price to $40 from $47, saying the company will be affected by airframers aggressively cutting production and putting new product development on hold.
• PPG Industries Inc (PPG). RBC raises target price to $144 from $141, reflecting on better than expected momentum in its consumer/DIY businesses and positive trends in auto OEM (Orignal Equipment manufacturers).
• Synopsys Inc (SNPS). RBC raises target price to $245 from $228, expecting the company to benefit from an improving pricing environment in the sector, increasing complexity of semiconductor chips and increasing demand for smartphones and all items related to the Internet of Things (wired/wireless interface products).
ECONOMIC EVENTS (All timings in U.S. Eastern Time)
1000 Wholesale inventories, R mm for Aug: Expected 0.5%; Prior 0.5%
1000 Wholesale sales mm for Aug: Expected 2.0%; Prior 4.6%
COMPANIES REPORTING RESULTS
No major S&P 500 companies are scheduled to report.
CORPORATE EVENTS
No major events are scheduled for the day.
EX-DIVIDENDS
Glacier Bancorp Inc (GBCI). Amount $0.30
Life Storage Inc (LSI). Amount $1.07
OGE Energy Corp (OGE). Amount $0.40
(All analysts' estimates are according to I/B/E/S Refinitiv data)
PICTURE OF THE DAY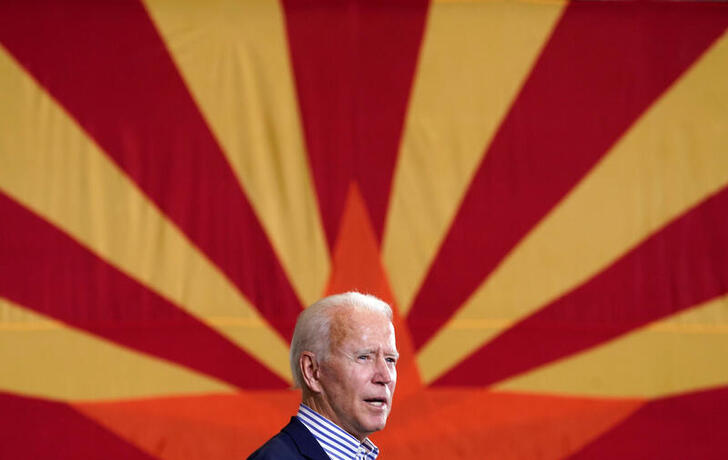 U.S. Democratic presidential candidate Joe Biden speaks during a campaign stop at a carpenters union in Phoenix, Arizona, U.S., October 8. REUTERS/Kevin Lamarque