USA EDITION
MONDAY, DECEMBER 14, 2020
TOP NEWS
•
U.S. vaccine campaign launches with first shipments 'delivering hope' to millions
Cargo planes and trucks with the first U.S. shipments of coronavirus vaccine fanned out from FedEx and UPS hubs in Tennessee and Kentucky on Sunday en route to distribution points around the country, launching an immunization project of unprecedented scope and complexity.

• U.S. Congress in sprint to fund government, approve COVID-19 emergency aid
The U.S. Congress will try this week to end months of indecision and infighting over the federal government's budget priorities and coronavirus aid, with more than $2 trillion in funding from Washington potentially at stake.

• AstraZeneca shares fall on "hefty" $39-billion Alexion deal
AstraZeneca shares fell, as investors moved to price in the costs of a $39 billion deal for U.S. biotech company Alexion Pharmaceuticals that would be the British drugmaker's biggest ever corporate acquisition.
• Apple probes supplier after workers at Wistron plant in India rampage
Apple said it is investigating whether a Taiwan contractor, Wistron, flouted supplier guidelines at an iPhone manufacturing facility in India, after some workers ransacked the plant in a protest over unpaid wages.

• Electronic Arts outbids Take-Two with $1.2 billion deal for Codemasters
Video games maker Electronic Arts said it had reached an agreement to buy Codemasters in a deal worth $1.2 billion, trumping an earlier agreement between the British company and rival Take-Two Interactive Software.
BEFORE THE BELL
Wall Street futures rose on the launch of the first coronavirus vaccine campaign in the U.S., while investors held out hope for more stimulus as bipartisan talks continued. European stocks climbed as a decision to extend trade talks between Britain and the European Union kept hopes of an eventual deal alive. Asian equities ended the day on a mixed note. The dollar fell, with progress on COVID-19 vaccines lifting risk appetite, while gold prices tumbled. Oil prices gained as traders priced in a global recovery next year.​
STOCKS TO WATCH
Deals Of The Day
•
AstraZeneca PLC (AZN) & Alexion Pharmaceuticals Inc (ALXN). AstraZeneca has agreed to buy Alexion for $39 billion in its largest ever deal, diversifying away from its fast-growing cancer business in a bet on rare-disease and immunology drugs. The British company said on Saturday that Alexion shareholders would receive $60 in cash and about $115 worth of equity per share - either in AstraZeneca's UK-traded ordinary shares or in dollar-denominated American Depositary Shares. Based on a reference average ADR price of $54.14, that implies a total price of $175 per share. Alexion shares closed at around $121 apiece on Friday. The British firm said the boards of both companies had approved the deal, which is expected to close in the third quarter of 2021. AstraZeneca said it expected the deal to immediately boost core earnings and to deliver pretax synergy gains of around $500 million per year. It also expects around $650 million in one-time cash costs during the three years following completion.
•
Electronic Arts Inc (EA) & Take-Two Interactive Software Inc (TTWO). The video games maker said it had reached an agreement to buy Codemasters in a deal worth $1.2 billion, trumping an earlier agreement between the British company and rival Take-Two. Codemasterssaid it considered the new offer to be superior to Take-Two's cash-and-stock buyout offer of 485 pence per share. Take-Two said it was considering its position. EA's offer represents a premium of 13.1% to the last closing price of the company's shares and it expects the deal to be completed in the first quarter of calendar 2021. EA said it expects the deal to grow net bookings and underlying profitability.

• Huntington Bancshares Inc (HBAN) & TCF Financial Corp (TCF). The regional lenders have entered an all-stock deal to create a company worth about $22 billion in market value, the companies said on Sunday. The merger will create a combined holding company and a bank that would operate under the name of Huntington. The companies did not provide a value for the merger, but Huntington expects the deal to add 18% to its earnings per share in 2022. The combined company will have about $168 billion in assets, $117 billion in loans and $134 billion in deposits, the companies said, adding the merger was expected to close in the second quarter of next year. Huntington Chief Executive Officer Stephen Steinour will remain as the chairman, president and CEO of the combined holding company.

• Pluralsight Inc (PS). Private equity firm Vista Equity said on Sunday it is has agreed to acquire Pluralsight in an all-cash deal which values the U.S. learning software company at $3.5 billion. The deal is at a roughly 25% premium to Pluralsight's volume -weighted average stock price of the last 30 days, the companies said. "We have seen first-hand that the demand for skilled software engineers continues to outstrip supply, and we expect this trend to persist as we move into a hybrid online-offline world across all industries and interactions, with business leaders recognizing that technological innovation is critical to business success," Monti Saroya, co-head of Vista's flagship Fund and senior managing director, said in a statement.
In Other News
•
Alcoa Corp (AA). In a push to keep the company's Portland aluminium smelter open, Australia's government has offered to ensure the smelter earns at least A$76.8 million through June 2025 for reducing its power usage and helping to prevent blackouts. Under the offer, the government will provide revenue certainty by topping up the sum the smelter receives in so-called grid security payments, to ensure it earns at least A$76.8 million in such payments over four years from July 2021 to June 2025. Alcoa welcomed the proposal and said it was working to finalise an agreement "that recognises the valuable contribution Portland Aluminium makes to grid security and helps to ensure the smelter's continued operation.

• Alphabet Inc (GOOGL). Google will allow its employees to work from home until September next year, extending the return to the office by a few months, the New York Times reported. The company was also testing the idea of a "flexible workweek" once it is safe to return to the office, Chief Executive Officer Sundar Pichai told the company's staff in an email on Sunday, according to the report. As part of the plan, Google's employees would be expected to work at least three days a week in the office while working from home the other days, the newspaper report said.

• Apartment Investment and Management Co (AIV) & Tesla Inc (TSLA). Apartment Investment and Management will be removed from the S&P 500 as of Dec. 21 to make room for the inclusion of Tesla, S&P Dow Jones Indices said on Friday. Apartment Investment and Management, which is spinning off Apartment Income REIT in a deal expected to be completed post market close on Monday, will no longer be representative of the S&P Composite 1500 indices market cap ranges, S&P Dow Jones Indices said in a statement.

• Apple Inc (AAPL). The company said it is investigating whether a Taiwan contractor, Wistron, flouted supplier guidelines at an iPhone manufacturing facility in India, after some workers ransacked the plant in a protest over unpaid wages. Thousands of contract workers gathered on the grounds of the Wistron site on the outskirts of India's tech hub of Bengaluru on Saturday demanding unpaid wages and better working hours. "We have teams on the ground and have immediately launched a detailed investigation at Wistron's Narasapura facility," Apple said in an email, adding it was dedicated to ensuring everyone in its supply chain was treated with dignity and respect. Apple said it was sending staff and auditors to the site and was cooperating with police in their investigation.

• Blackstone Group (BX). Soilbuild Group's executive chairman will team up with the company to take its listed unit Soilbuild Business Space REIT SBSR.SI private in a S$700.3 million deal, the real estate company said. Soilbuild Group Executive Chairman Lim Chap Huat and Blackstone are offering S$0.55 per share in cash to take the Singapore-focused company private to help it weather challenging market conditions and an uncertain global economic recovery from the coronavirus fallout. The buyout offer of S$0.55 represents a 7.8% premium to the REIT's last close on Dec. 8, when shares last traded before a halt.

• CureVac NV (CVAC). The German biotech firm has enrolled the first participant for a Phase 2b/3 clinical trial of its COVID-19 vaccine candidate, it said. The trial, which is relevant for regulatory approval, will assess the safety and efficacy in adults and is expected to include more than 35,000 participants in Europe and Latin America, it added in a statement. The study aims to demonstrate the efficacy of its vaccine candidate in preventing first episodes of confirmed cases of COVID-19 of any severity as well as preventing moderate to severe confirmed cases of COVID-19 in participants who have never been infected with SARS-CoV-2, CureVac said.

• FedEx Corp (FDX), United Parcel Service Inc (UPS), Pfizer Inc (PFE) & BioNTech SE (BNTX). Cargo planes and trucks with the first U.S. shipments of coronavirus vaccine fanned out from FedEx and UPS hubs in Tennessee and Kentucky on Sunday en route to distribution points around the country, launching an immunization project of unprecedented scope and complexity. The inoculations, seen as pivotal to ultimately halting a surging pandemic that is claiming more than 2,400 U.S. lives a day, could begin as early as Monday. The first are likely to be at vaccination sites closest to any of the 145 initial shipment destinations nationwide, or those nearest the FedEx or UPS cargo centers that are relaying deliveries from the factory. The coronavirus vaccine, developed by Pfizer and its German partner BioNTech, gained emergency-use approval from federal regulators late on Friday, clearing the way for distribution to begin a mere 11 months after the United States documented its first COVID-19 infections.

• Goldman Sachs Group Inc (GS). The U.S. Supreme Court on Friday agreed to hear the bank's appeal in a securities fraud case that could redefine the ability of shareholders to pursue class actions against public companies whose stock prices fall. Goldman is appealing an April decision from the 2nd U.S. Circuit Court of Appeals in Manhattan allowing a class action accusing the bank of hiding conflicts of interest when creating risky subprime securities before the 2008 financial crisis. A decision is likely before the end of the court's current term in June.

• Moderna Inc (MRNA). The company said on Friday the U.S. government will get an additional 100 million doses of its COVID-19 vaccine candidate, expected to be delivered in the second quarter of 2021 if authorized. The government has ordered a total of 200 million doses till date, the vaccine developer said, adding that of first order lot, about 20 million doses will be delivered by December end and the remaining in the first quarter of 2021.

• Nasdaq Inc (NDAQ). The company said on Friday it will remove shares of four Chinese construction and manufacturing companies from indexes it maintains in response to a U.S. order restricting purchase of their shares. The securities, which are not traded on the Nasdaq exchange, will be removed from the indexes on Dec. 21. They include China Communications Construction, China Railway Construction, CRRC and Semiconductor Manufacturing International, Nasdaq said in a statement. The four Chinese companies being removed by Nasdaq are the only ones among those on the White House list that appear in Nasdaq indexes, a spokeswoman said.

• Novartis AG (NVS). The drugmaker said a late-stage clinical trial of ruxolitinib on top of standard therapy showed no significant reduction in severe complications of COVID-19, including death, respiratory failure requiring mechanical ventilation or admission to the intensive care unit. The RUXCOVID trial also did not show relevant benefit for other endpoints including mortality rate by day 29 and time to recovery, the Swiss drugmaker said. Novartis licensed ruxolitinib - an oral inhibitor of the JAK 1 and JAK 2 tyrosine kinases - from Incyte for development and commercialisation outside the United States.

• Oracle Corp (ORCL). The business software maker said on Friday it was moving its corporate headquarters to Austin, Texas from Redwood City, California. Employees can pick their office location and choose whether to work from home part-time or full-time, Oracle said in a regulatory filing. "We believe these moves best position Oracle for growth and provide our personnel with more flexibility about where and how they work," the company said.

• Pfizer Inc (PFE) & BioNTech SE (BNTX). Singapore has approved Pfizer-BioNTech's novel coronavirus vaccine and expects to receive shots by year-end, Prime Minister Lee Hsien Loong said, adding that he planned to be among the early vaccine recipients. The city-state of 5.7 million people expects to have enough vaccines for everyone by the third quarter of 2021 and will make it free for citizens and long-term residents, Lee, said. Singapore has also signed advanced purchase agreements and made early down-payments on promising vaccine candidates including those being developed by Moderna and Sinovac, setting aside more than $1 billion for shots, authorities said. Separately, the first COVID-19 vaccines landed on Canadian soil on Sunday, Prime Minister Justin Trudeau said, and some Canadians are expected to roll up their sleeves for a shot as soon as Monday.

• SolarWinds Corp (SWI). The IT company said on Sunday that monitoring products it released in March and June of this year may have been surreptitiously tampered with in a "highly-sophisticated, targeted and manual supply chain attack by a nation state." The statement came as the U.S. intelligence community urgently investigates breaches at several government agencies, including the U.S. Treasury and Department of Commerce. The breach - which two people familiar with the investigation said was connected to a previously announced intrusion at cybersecurity firm FireEye - is currently believed to be the work of Russians.

• State Street Corp (STT). The custodian bank is exploring options for its asset management business, including a merger with a competitor, as it seeks to gain scale, Bloomberg News reported on Friday, citing people familiar with the matter. The bank has been informally working with an adviser to review strategic alternatives for the unit, known as State Street Global Advisors, according to the report.

• Tesla Inc (TSLA). The automaker will send delegations to Indonesia next month to discuss potential investment in a supply chain for its electric vehicles, the government said on Saturday in a statement. President Joko Widodo and Luhut Pandjaitan, the coordinating minister for maritime and investment, were on a call with Tesla CEO Elon Musk on Friday to discuss "investment opportunities from electric vehicles company Tesla in Indonesia," the ministry said. Luhut told Reuters last month that "there is a really good chance" that companies will want to invest in Indonesian nickel processing to cut costs.

• Twitter Inc (TWTR). The company said on Saturday it had "inadvertently" limited engagements for a brief period on U.S. President Donald Trump's tweets with "disputed" labels but later reversed its action. Some users on the social media platform had noticed earlier on Saturday that the ability to like, re-tweet or reply to Trump's tweets with a "disputed" label was not working. "We inadvertently took action to limit engagements on the labeled Tweet you referenced. This action has been reversed", a Twitter spokesman told Reuters in an emailed statement.

• Unilever Plc (UL). The consumer goods giant will put its plans to cut greenhouse gas emissions to a shareholder vote, it said, becoming the first blue-chip company to give investors a say on its climate strategy. Shareholders will be allowed to vote on steps, including reducing emissions to net zero from its own operations and halving the environmental impact of products by 2030. The maker of Hellmann's mayonnaise and Lipton tea is also aiming to cut emissions to net zero from sourcing to point of sale by 2039, 11 years ahead of the Paris agreement deadline.

• United Airlines Holdings Inc (UAL). The company said on Friday average cash burn in the fourth quarter could jump up to $26 million per day, hurt by travel restrictions following a surge in COVID-19 cases over the last few weeks. United, which expects fourth-quarter revenue to drop close to 70% from a year earlier, said it now estimates average daily cash burn of about $24 million to $26 million, plus $10 million of average debt principal and severance payments per day in the quarter. It had previously estimated daily cash burn of $15 million to $20 million.
INSIGHT
Couch or cubicle? Vaccine may not lure Americans back to the office
Months into a pandemic that has changed work-life balance into a work-life M.C. Escher drawing - with the end of one and the beginning of the other now indistinguishable - Americans say they've actually adapted fine to home offices and dining room table workstations, and most want to continue working from home after the pandemic.
ANALYSTS' RECOMMENDATION
• Amicus Therapeutics Inc (FOLD). JPMorgan raises target price to $29 from $25, saying the company is well positioned to bring forward one of the most robust rare disease portfolios in the industry.

• Bank of America Corp (BAC). JPMorgan raises target price to $32 from $27.5, reflecting the benefit from lower credit risk, its strong retail franchise, and controlled expenses.

• Citigroup Inc (C). JPMorgan raises target price to $63.5 from $52.5, to primarily reflect improvement in economic outlook from successful vaccine development.

• Freshpet Inc (FRPT). Jefferies raises target price to $155 from $144, citing durability of pet industry demand and visibility into capacity expansion and utilisation.

• Uber Technologies Inc (UBER). RBC raises target price to $77 from $58, following the annual U.S. Rideshare survey which says users are expected to return to pre-COVID ridership levels within 6-12 months and that the company remains the clear leader in ridesharing.
ECONOMIC EVENTS
No economic indicators are scheduled for release.
COMPANIES REPORTING RESULTS
No major S&P 500 companies are scheduled to report for the day.
CORPORATE EVENTS
No major events are scheduled for the day.
EXDIVIDENDS
Amphenol Corp (APH). Amount $0.29
Ares Capital Corp (ARCC). Amount $0.40
Bancorpsouth Bank (BXS). Amount $0.19
Best Buy Co Inc (BBY). Amount $0.55
Broadridge Financial Solutions Inc (BR). Amount $0.57
Camping World Holdings Inc (CWH). Amount $0.91
Chesapeake Utilities Corp (CPK). Amount $0.44
Comerica Inc (CMA). Amount $0.68
Conmed Corp (CNMD). Amount $0.20
Crown Castle International Corp (CCI). Amount $1.33
Domino's Pizza Inc (DPZ). Amount $0.78
E. W. Scripps Co (SSP). Amount $0.05
Eastman Chemical Co (EMN). Amount $0.69
Ecolab Inc (ECL). Amount $0.48
Enterprise Financial Services Corp (EFSC). Amount $0.18
Extra Space Storage Inc (EXR). Amount $0.90
FBL Financial Group Inc (FFG). Amount $0.50
GATX Corp (GATX). Amount $0.48
Gilead Sciences Inc (GILD). Amount $0.68
Graphic Packaging Holding Co (GPK). Amount $0.07
Hamilton Lane Inc (HLNE). Amount $0.31
Hess Corp (HES). Amount $0.25
Huntsman Corp (HUN). Amount $0.16
Iron Mountain Inc (IRM). Amount $0.61
Kaman Corp (KAMN). Amount $0.20
KBR Inc (KBR). Amount $0.10
Leggett & Platt Inc (LEG). Amount $0.40
Leidos Holdings Inc (LDOS). Amount $0.34
Maxar Technologies Inc (MAXR). Amount $0.01
Merck & Co Inc (MRK). Amount $0.65
Motorola Solutions Inc (MSI). Amount $0.71
NewMarket Corp (NEU). Amount $1.90
NorthWestern Corp (NWE). Amount $0.60
Ovintiv Inc (OVV). Amount $0.09
PotlatchDeltic Corp (PCH). Amount $0.41
Prosperity Bancshares Inc (PB). Amount $0.49
PS Business Parks Inc (PSB). Amount $1.05
Public Storage (PSA). Amount $2.00
Rent-A-Center Inc (RCII). Amount $0.31
Service Corporation International (SCI). Amount $0.21
Simmons First National Corp (SFNC). Amount $0.17
Sixth Street Specialty Lending Inc (TSLX). Amount $0.41
SL Green Realty Corp (SLG). Amount $0.30
Sonic Automotive Inc (SAH). Amount $0.10
Stewart Information Services Corp (STC). Amount $0.30
T. Rowe Price Group Inc (TROW). Amount $0.90
Terreno Realty Corp (TRNO). Amount $0.29
Thermo Fisher Scientific Inc (TMO). Amount $0.22
UGI Corp (UGI). Amount $0.33
United Community Banks Inc (UCBI). Amount $0.18
Uniti Group Inc (UNIT). Amount $0.15
Universal Display Corp (OLED). Amount $0.15
Valley National Bancorp (VLY). Amount $0.11
Verisk Analytics Inc (VRSK). Amount $0.27
ViacomCBS Inc (VIAC). Amount $0.24
W. R. Berkley Corp (WRB). Amount $0.12
World Wrestling Entertainment Inc (WWE). Amount $0.12
Worthington Industries Inc (WOR). Amount $0.25
Wyndham Destinations Inc (WYND). Amount $0.30
Wyndham Hotels & Resorts Inc (WH). Amount $0.08
(All analysts' estimates are according to I/B/E/S Refinitiv data)
PICTURE OF THE DAY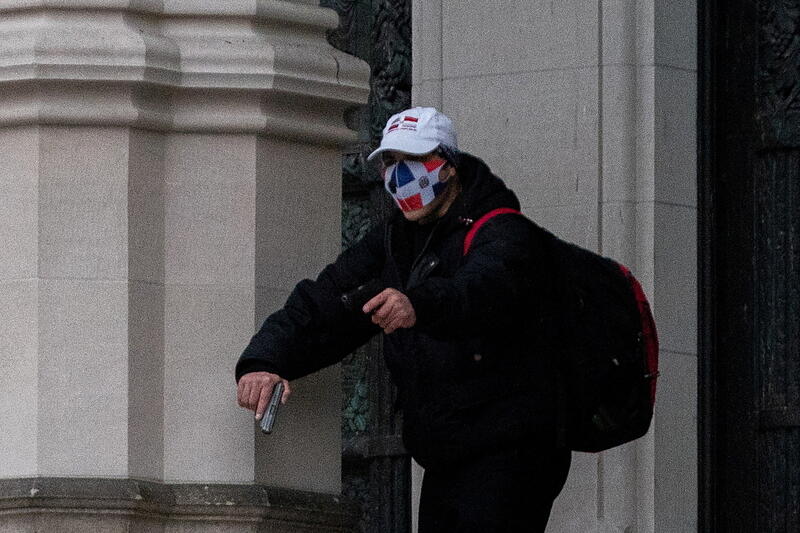 A man wearing a protective mask points his guns outside the Cathedral Church of St. John the Divine in the Manhattan borough of New York City, New York, December 13. REUTERS/Jeenah Moon