USA EDITION
WEDNESDAY, DECEMBER 16, 2020
TOP NEWS
•
Fed faces tricky act balancing impact of vaccines against economic pain
The Federal Reserve will offer its first glimpse of how a coronavirus vaccine has changed the U.S. economic outlook, and whether businesses, workers and families need more help from the central bank until inoculations and immunity are widespread.

• Biden to introduce Buttigieg as latest nominee to diverse U.S. Cabinet
President-elect Joe Biden plans to formally introduce former rival Pete Buttigieg as his pick for U.S. secretary of transportation, adding to what is shaping up to be the most diverse Cabinet in U.S. history.
•
MSCI chops Chinese firms from global indexes, but will keep them elsewhere
MSCI will cut seven Chinese firms from some of its global indexes, it said on Tuesday, the third major index publisher to do so following U.S. restrictions on owning the companies.
• Australia sues Facebook over user data, echoing U.S. antitrust case
An Australian regulator sued Facebook accusing it of collecting user data without permission, building on government efforts around the world to rein in the social network.

• FOCUS-European tech firms seek to share in U.S. IPO bonanza
Some of Europe's tech companies are preparing to speed up listing plans early next year to grab some of the billions of dollars of investor cash that has already fuelled a record-breaking run of tech IPOs in the United States this year.
BEFORE THE BELL
Wall Street futures rose ahead of the Federal Reserve policy decision, as investors awaited further fiscal support for the U.S. economy. European stocks were up on upbeat business activity data, rising hopes of a Brexit trade deal and the possible roll-out of a COVID-19 vaccine in the continent before the new year. Asian equities ended the day higher. Increased appetite for riskier assets weakened the dollar, whereas gold gained. Oil prices advanced, but gains were capped by a surprise rise in U.S. crude inventories. U.S. retail sales data for November is due for release later in the day.
STOCKS TO WATCH
IPOs
•
ContextLogic Inc (WISH). The e-commerce firm sold shares in its initial public offering (IPO) on Tuesday at $24 apiece, the top of its target range, to raise $1.1 billion, the company said in a statement. The IPO gives ContextLogic, which does business as Wish, a market capitalization of $14.1 billion. Wish had planned to sell 46 million shares within a targeted range of $22 and $24 per share. Wish reported revenue of $1.7 billion for nine months ended in September, up 32% from $1.3 billion last year. The company's net losses, however, widened to $176 million compared with $5 million last year. Wish shares are due to begin trading on Nasdaq on Wednesday under the symbol "Wish."
In Other News
•
Alphabet Inc (GOOGL). A coalition of U.S. states was expected to file an antitrust lawsuit against Google alleging that it altered the designs of its search engine to the disadvantage of rivals that offer specialized search results, Politico reported on Tuesday. The lawsuit could be filed as soon as Thursday and was different from the one that the U.S. Department of Justice (DOJ) filed against Google in October, the report said, citing two people close to the probe. The Politico report said the states pursuing the new lawsuit expect to file it in the same federal court in Washington, D.C., as the Justice Department case, where the two can be consolidated. The new allegations focus on specialized search.

• Amazon.com Inc (AMZN) & Microsoft Corp (MSFT). Amazon urged a U.S. judge to toss out the Pentagon's $10 billion JEDI cloud computing contract award after the Defense Department said in September a court-ordered re-evaluation had determined Microsoft's proposal still represented the best value for the government. The company's Amazon Web Services (AWS) unit said in a redacted Oct. 23 court filing unsealed on Tuesday that the award to Microsoft must "be invalidated because it is the product of systematic bias, bad faith, and undue influence exerted by President Trump to steer the award away from" the company. It called it a "flawed and politically corrupted decision." Microsoft said in a statement Tuesday "career procurement officials at the DoD decided that given the superior technical advantages and overall value, we continued to offer the best solution."

• BioNTech SE (BNTX). Shanghai Fosun Pharmaceutical said it will buy at least 100 million doses of a COVID-19 vaccine from Germany's BioNTech for use in mainland China next year, if the vaccine receives approval. Fosun said it will be entitled to 60% of annual gross profit from sales of doses that it will make from imported bulk ingredients, and 65% of profit from sales of doses imported ready for use. For the initial supply of 50 million doses, Fosun will make an advance payment to BioNTech of 250 million euros ($303.80 million) - half by Dec. 30 and the remainder after regulatory approval - the firm said in a Hong Kong stock exchange filing.

• BP PLC (BP). The company has acquired a majority stake in the largest U.S. carbon offset developer, Finite Carbon, the oil major said, as part of its climate goals and to develop a new revenue stream. Finite pays landowners to manage forests, generating carbon offset credits which can be sold to polluters. The firm expects to generate $1 billion for landowners over the next 10 years, after a 20-40% cut of the proceeds, its chief executive Sean Carney told Reuters earlier this month.
•
Brinker International Inc (EAT). The Chili's Grill & Bar operator said it was withdrawing its second-quarter outlook, citing the impact of the recent dining room restrictions introduced to quell a second wave of coronavirus infections. Same-store sales at Chili's restaurants declined 12.3% in the week ended Dec. 9, compared with a 3.9% decline in the week ended Nov. 4, while weekly comparable sales decline at Maggiano's ranged from 39.4% to 63.9% over a six-week period ended Dec. 9. About 77% of Chili's and 69% of Maggiano's restaurants were operating with dining rooms open, as of Dec. 9, following fresh government mandates, Brinker said.
• British American Tobacco PLC (BTI). A COVID-19 vaccine being developed by the company from tobacco leaves has been approved for human trials by the U.S. health regulator, the maker of Dunhill and Lucky Strike cigarettes said. The enrolment for the study is expected to start shortly, with results likely by mid-2021, the company said. "Moving into human trials with both our COVID-19 and seasonal flu vaccine candidates is a significant milestone," BAT's Director of Scientific Research David O'Reilly said. The COVID-19 vaccine is being developed by the company's biotech arm Kentucky BioProcessing.

• Delta Air Lines Inc (DAL). The carrier is in early talks with governments to add more quarantine-free flights overseas, a company executive said on Tuesday, as the aviation industry turns to such testing-backed programs to revive demand battered by COVID-19. "This is the first step," Perry Cantarutti, Delta's senior vice president, alliances and international, told reporters on a call. "Our focus is not just across the Atlantic. I think we'd like to see a similar program across the Pacific," he added. "It's a combination of certainly identifying the need and then finding an opportunity where you've got government authorities that are willing to have that conversation," he added, without specifying the governments involved in the talks.

• Facebook Inc (FB). An Australian regulator sued the company accusing it of collecting user data without permission, building on government efforts around the world to rein in the social network. The Australian Competition and Consumer Commission (ACCC) said it was seeking an unspecified fine from Facebook for promoting a virtual private network as a way for people to protect their data, while secretly using the information to pick targets for commercial acquisitions. "There is a link to what the FTC is saying, but they're looking at a competition issue," ACCC Chairman Rod Sims said at a televised news conference. "We're looking at the consumer."

• Gilead Sciences Inc (GILD). The company said on Tuesday it had decided not to pursue the U.S. Food and Drug Administration's approval for its experimental rheumatoid arthritis treatment, filgotinib, following a meeting with the health regulator. Gilead said it had concluded that the 200 mg dose of the drug was unlikely to receive a U.S. approval without conducting additional clinical studies. The Belgo-Dutch biotech firm Galapagos will also assume all rights for filgotinib in Europe, with Gilead agreeing to pay 160 million euros to the company, they said in a joint statement.
•
MSCI Inc (MSCI). The company will cut seven Chinese firms from some of its global indexes, it said on Tuesday, the third major index publisher to do so following U.S. restrictions on owning the companies. Companies to be deleted include SMIC, China Communications Construction and Hangzhou Hikvision, though MSCI said it will launch new parallel indexes that retain the securities. MSCI said it decided to cut the companies after consulting customers following a ban on U.S. investors buying stocks that the U.S. Defense Department regards as backed by the Chinese military.
• Tilray Inc (TLRY). Canadian pot producer Aphria and Tilray have agreed to combine their operations, Bloomberg News reported. The all-stock deal will create a new company with an equity value of about C$4.8 billion, the report said, citing a statement from the companies and interviews of the heads of Aphria and Tilray. Aphria will pay a 23% premium to Tilray stock's last closing price on Tuesday and its shareholders will own 62% of Tilray's stock under the terms of the deal, Bloomberg News said. The new company will trade under Tilray's ticker on the Nasdaq.

• Twitter Inc (TWTR). The company on Tuesday said it would shut down live-streaming app Periscope, which it bought in 2015, due to declining usage over the past couple of years and high supporting costs. The mobile app has been in "an unsustainable maintenance-mode state" for a while, Twitter said in a blog post. Broadcasts that were shared to Twitter will stay on as replays and users will be able to download an archive of their Periscope broadcasts and data before the app is removed, the company said.

• Zoom Video Communications Inc (ZM). The video-conferencing services provider said it would expand its presence in Singapore by opening a research and development centre and will immediately hire hundreds of engineering staff for the new operations. The company said in a statement that is also doubling its data centre capacity in the country. "We plan to immediately hire employees," Velchamy Sankarlingam, president of product and engineering for Zoom, said while floating the company's expansion plans. Zoom said it would select the location for its new centre as pandemic-related remote-work mode subsides, adding to its existing R&D centers in the United States, India, and China.
ANALYSIS
Federal Reserve 'boneheads' emerge from Trump era unscathed
"Boneheads." "Pathetic." An "enemy" of the United States. President Donald Trump was often vicious in his critique of the U.S. Federal Reserve, bashing the central bank governors' monetary policy decisions with tweets and verbal barbs, while trying to stack its board with cronies.
ANALYSTS' RECOMMENDATION
• Alphabet Inc (GOOGL). JPMorgan raises target price to $2050 from $1870, saying its fundamentals are strong and that the company will remain a primary beneficiary of the secular shift to online spending.

• Delta Air Lines Inc (DAL). JPMorgan raises target price to $51 from $50, saying the company is viewed as the industry leader, that generates highest margins of the legacy airlines and has a strong balance sheet.

• Flowserve Corp (FLS). Cowen and Company raises target price to $35 from $30, reflecting improved sentiment in the energy sector.

• Moderna Inc (MRNA). Jefferies raises target price to $150 from $90, based on significant appreciation of the stock during 2020 and high investor appreciation for the positive results for their leading COVID-19 vaccine, mRNA-1273.

• Twitter Inc (TWTR). JPMorgan raises target price to $65 from $52, saying the company is uniquely positioned as the real-time broadcast and communications network, making it complementary to all other forms of media, including TV.
ECONOMIC EVENTS (All timings in U.S. Eastern Time)
0830 (approx.) Retail sales ex-autos mm for Nov: Expected 0.1%; Prior 0.2%
0830 (approx.) Retail sales mm for Nov: Expected -0.3%; Prior 0.3%
0830 (approx.) Retail ex-gas/autos for Nov: Prior 0.2%
0830 (approx.) Retail control for Nov: Expected 0.2%; Prior 0.1%
0830 (approx.) Retail sales YoY for Nov: Prior 5.68%
0945 Markit Composite Flash PMI for Dec: Prior 58.6
0945 Markit Manufacturing Flash PMI for Dec: Expected 55.7; Prior 56.7
0945 Markit Services Flash PMI for Dec: Expected 55.9; Prior 58.4
1000 (approx.) Business inventories mm for Oct: Expected 0.7%; Prior 0.7%
1000 (approx.) Retail inventories ex-auto revised for Oct: Prior 0.7%
1000 NAHB Housing Market Index for Dec: Expected 88; Prior 90
1400 Fed funds target rate: Prior 0-0.25%
1400 Fed interest on excess reserves: Prior 0.10%
COMPANIES REPORTING RESULTS
Lennar Corp (LEN). Expected Q4 earnings of $2.37 cents per share
CORPORATE EVENTS (All timings in U.S. Eastern Time)
0830 Nordson Corp (NDSN). Q4 earnings conference call
0900 Autozone Inc (AZO). Annual Shareholders Meeting
0930 Cantel Medical Corp (CMD). Annual Shareholders Meeting
1100 Toro Co (TTC). Q4 earnings conference call
1630 Stitch Fix Inc (SFIX). Annual Shareholders Meeting
EXDIVIDENDS
Ares Management Corp (ARES). Amount $0.40
Fidelity National Financial Inc (FNF). Amount $0.36
Global Payments Inc (GPN). Amount $0.19
Hillenbrand Inc (HI). Amount $0.21
Rayonier Inc (RYN). Amount $0.27
Smith & Wesson Brands Inc (SWBI). Amount $0.05
Synovus Financial Corp (SNV). Amount $0.33
Vector Group Ltd (VGR). Amount $0.20
(All analysts' estimates are according to I/B/E/S Refinitiv data)
PICTURE OF THE DAY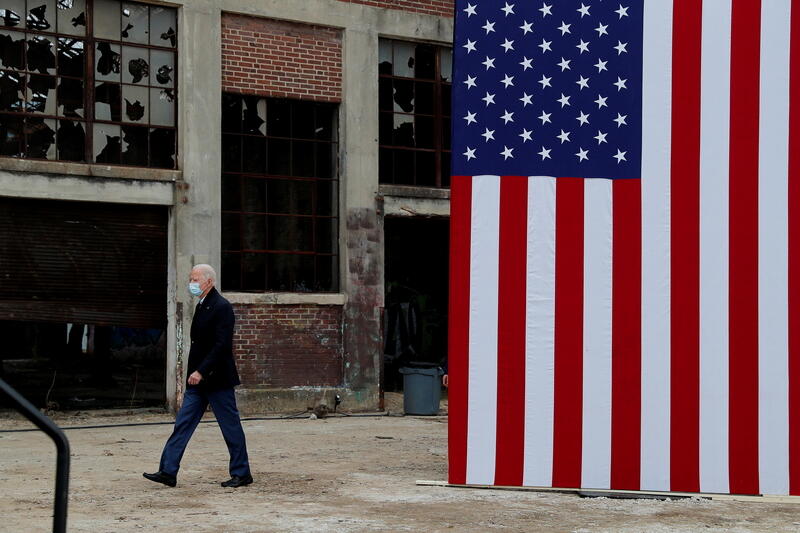 U.S. President-elect Joe Biden arrives to address a drive-in campaign rally on behalf of Democratic U.S. Senate candidates from Georgia Jon Ossoff and Raphael Warnock, ahead of their January 5 runoff elections, at Pullman Yard in Atlanta, Georgia, December 15. REUTERS/Mike Segar