USA EDITION
THURSDAY, DECEMBER 17, 2020
TOP NEWS
•
U.S. airlines closing in on new government assistance package
U.S. airlines are on the brink of receiving a four-month extension of a government assistance program that is expected to provide another $17 billion to fund payroll costs, congressional aides told Reuters.
•
EU to order more Pfizer vaccine after declining earlier offer
The European Union will take up its option to buy up to 100 million more doses of Pfizer and BioNTech's COVID-19 vaccine after turning down an opportunity in July for a much bigger deal, according to EU officials and an internal document.
• Moderna's coronavirus vaccine faces U.S. FDA expert panel review
A panel of outside advisers to the U.S. Food and Drug Administration is expected to endorse emergency use of Moderna's coronavirus vaccine during a meeting, as the nation prepares to roll out a second vaccine.
•
Biden's expected Energy Department pick, Granholm, could lead charge on electric cars
When Jennifer Granholm was governor of auto-manufacturing Michigan, she led a charge that secured a whopping $1.35 billion in federal funding for companies to make electric cars and batteries in her state.
•
FOCUS-COVID vaccine is bonanza for digital supply chain tracking industry
More than half of vaccines go to waste globally every year because of temperature control, logistics and shipment-related issues.
BEFORE THE BELL
Wall Street futures rose on hopes of a U.S. fiscal stimulus and the Federal Reserve's pledge to keep pumping cash into markets. European shares were up as potential COVID-19 vaccine rollouts in the continent strengthened the case for a global economic recovery. Most Asian stocks ended in the green. The general risk-on mood sent the dollar lower, whereas gold prices gained. Oil prices hit a nine-month high after government data showed a fall in U.S. crude stockpiles last week. U.S. weekly jobless claims figures and housing data for November are due for release later in the day.
STOCKS TO WATCH
Results
•
Lennar Corp (LEN). The homebuilder beat quarterly profit and revenue estimates on Wednesday, as it reined in construction costs and benefited from a strong U.S. housing market. The company forecast first-quarter delivery of 12,200 to 12,500 homes, above analysts' estimates of 11,592. Revenue fell to $6.83 billion in the fourth quarter, from $6.97 billion a year earlier. Analysts were expecting revenue of $6.65 billion. Net earnings attributable to the company rose to $882.8 million, or $2.82 per share, from $674.3 million, or $2.13 per share, a year earlier. Analysts had expected earnings of 2.37 per share.
Deals Of The Day
•
Novartis AG (NVS). The company said it would acquire U.S.-based neuroscience company Cadent for up to $770 million, gaining full rights to Cadent's portfolio. "Cadent will receive a $210 million upfront payment and will be eligible for up to $560 million in milestone payments, for a total potential consideration of $770 million," Cadent said in a statement. Novartis said the acquisition added two new clinical stage programs to its neuroscience portfolio, one for schizophrenia and the other for movement disorders. Cadent and Novartis said they expected the transaction to close in the first quarter of 2021. Closing of the transaction is subject to customary closing conditions.
Moves
• International Business Machines Corp (IBM). The company said on Wednesday Chief Executive Officer Arvind Krishna would take over as chairman from Jan. 1, replacing Ginni Rometty, who stepped down as its long-time CEO earlier this year. Rometty, who was the tech pioneer's first woman CEO, would occasionally be asked to act as an independent contractor after her retirement, IBM said.

• Nokia Oyj (NOK). The Finnish telecom equipment maker named rival Ericsson's former executive Nishant Batra as chief strategy and technology officer and member of its group leadership team, effective Jan. 18. The company said Batra, who is currently CTO at auto technology group Veoneer, will be based initially in Finland and then move to the United States.

• Rio Tinto Ltd (RIO). The company named Chief Financial Officer Jakob Stausholm as its next chief executive, defying expectations it would pick an external candidate to repair its image after its destruction of sacred Aboriginal rock shelters. "Some may perceive Mr Stausholm's appointment as potentially indicating little change in overall strategy," analysts at Morgan Stanley said, adding that the appointment should minimize the typical disruption period caused by management transitions. Rio said Stausholm, who was formerly at Royal Dutch Shell and Maersk, will take over as CEO on Jan. 1, 2021, and Peter Cunningham will be appointed as chief financial officer on an interim basis.
In Other News
•
Alibaba Group Holding Ltd (BABA). The technology giant has facial recognition technology which can specifically pick out members of China's Uighur minority, surveillance industry researcher IPVM said in a report. An Alibaba Cloud spokeswoman said the technology was only confined to testing. "The ethnicity mention refers to a feature/function that was used within a testing environment during an exploration of our technical capability. It was never used outside the testing environment." U.S.-based IPVM in a report published on Wednesday said software capable of identifying Uighurs appears in Alibaba's Cloud Shield content moderation service for websites.

• Alphabet Inc (GOOGL). Online publishers including Genius Media Group and news website The Nation alleged in a lawsuit seeking class-action status on Wednesday that Google has unlawfully stifled advertising competition, hurting their businesses. Genius, which provides song lyrics, and two online magazines the Nation and the Progressive, said they used Google software to sell ads but received what they viewed as an unfair split of sales because the search giant had taken over the market. Separately, Staff on Google's Ethical AI research team on Wednesday demanded the company sideline a vice president and commit to greater academic freedom, escalating a confrontation with management following this month's termination of scientist Timnit Gebru.

• Boeing Co (BA). The company is hiring up to 160 pilots to be embedded at airlines in its latest bid to ensure its 737 MAX has a smooth comeback after a 20-month safety ban, according to a recruitment document seen by Reuters and people familiar with the move. The new "Global Engagement Pilots" will act as instructors or cockpit observers on 35-day assignments at an equivalent annual salary that could reach $200,000, for a total potential cost of $32 million, one of the people said. "Duties include: consulting activities and assist in customer support, including flying opportunities," according to a summary seen by Reuters of job terms from a contracting firm carrying out the recruitment on behalf of Boeing. Separately, Transport Canada is set to announce approval of design changes to Boeing's 737 MAX as early as Thursday, in a first step toward bringing the aircraft back to the country's skies after a near two-year flight ban, two sources familiar with the matter said.

• Facebook Inc (FB) & Alphabet Inc (GOOGL). The two biggest players in online advertising used a series of deals to consolidate their market power illegally, Texas and nine other states alleged in a lawsuit against Google on Wednesday. Google reached similar partnerships with other advertising companies as part of an effort to maintain market share that was internally codenamed Project Jedi, a source with direct knowledge of the matter said. But what Google did not announce publicly is that it gave Facebook preferential treatment, the complaint alleged. Facebook agreed to back down from supporting competing software, which publishers had developed to dent Google's market power, the complaint said. "Facebook decided to dangle the threat of competition in Google's face and then cut a deal to manipulate the auction," it said, citing internal communications.

• MacroGenics Inc (MGNX). The cancer drug developer said on Wednesday the U.S. Food and Drug Administration (FDA) had approved its drug Margenza in combination with chemotherapy for the treatment of an advanced type of breast cancer in patients who failed two or more prior therapies. The company said it was expecting to launch the drug, the first to be approved from its pipeline, in March. The approval is based on results of a late-stage study, which showed that a combination of Margenza and chemotherapy caused significant reduction in the risk of disease progression or death compared with Roche's Herceptin plus chemotherapy, the company said.

• Moderna Inc (MRNA). A panel of outside advisers to the U.S. Food and Drug Administration is expected to endorse emergency use of Moderna's coronavirus vaccine during a meeting, as the nation prepares to roll out a second vaccine. The panel vote on whether the vaccine's benefits outweigh its risks is likely to come some time after 3 pm ET, with an FDA authorization expected as soon as Friday. The FDA advisory committee is likely to discuss Moderna's reports of side effects from its 30,000-person trial, which were more frequent than those reported by Pfizer. SVB Leerink analysts said the Moderna vaccine appears less tolerable than the Pfizer/BioNTech shot, but noted that is not a proper comparison across trials and unlikely to stand in the way of an EUA.
• Novavax Inc (NVAX). The European Union has concluded preliminary talks with the company to secure up to 200 million doses of its COVID-19 vaccine candidate, a Commission spokesman said. "The envisaged contract foresees the possibility for member states to buy 100 million doses with the option of buying another 100 million doses," the spokesman said. Separately, the company said it had entered an agreement with the government of New Zealand for 10.7 million doses of its COVID-19 vaccine candidate.
• Pfizer Inc (PFE) & BioNTech SE (BNTX). The European Union will take up its option to buy up to 100 million more doses of Pfizer and BioNTech's COVID-19 vaccine after turning down an opportunity in July for a much bigger deal, according to EU officials and an internal document. The European Commission decided on Tuesday to exercise its option to buy up to 100 million additional doses under an existing contract with Pfizer and BioNTech, a spokesman for the EU executive told Reuters. Under the same contract it has already ordered 200 million doses. The extra 100 million doses would be supplied at the same price, but with the timetable to be negotiated, EU officials said. Separately, the U.S. Food and Drug Administration said on Wednesday that extra doses from vials of Pfizer's COVID-19 vaccine can be used after reports of vaccine doses being thrown away by pharmacists due to labeling confusion.

• Roku Inc (ROKU) & AT&T Inc (T). HBO Max, the streaming service from AT&T owned WarnerMedia, will be available on the Roku streaming platform beginning Dec. 17, the companies said on Wednesday. Roku users will now be able to download HBO Max from the Roku channel store and subscribe directly on their device to access all of HBO Max, which includes 10,000 hours of content from WarnerMedia brands and libraries such as Warner Bros, New Line Cinema and Cartoon Network.

• Twitter Inc (TWTR). The microblogging site is reversing changes made to its retweet function intended to curb the spread of misinformation during the U.S. presidential election, the company said. Twitter said it will no longer prompt quote tweets from the retweet icon. "Retweet functionality will be returning to the way it was before," the company said in a statement on Wednesday. Quote tweets instead of retweets was intended to encourage thoughtful amplification, but that has not happened in practice, the company said. "The use of Quote Tweets increased, but 45% of them included single-word affirmations and 70% had less than 25 characters," it said.

• WPP PLC (WPP). The world's biggest advertising company expects its net sales to bounce back to pre-pandemic levels earlier than previously forecast thanks to the rapid global corporate switch to e-commerce and digital services. WPP said it expected its key measurement of underlying net sales to drop 8.4% in 2020 before rising by a mid single digit percentage next year and reaching pre-pandemic levels in 2022. It then expects annual growth of 3% to 4%. Chief Executive Mark Read said the business had proved more resilient than many had expected and a strategy set out two years ago to offer clients a combination of digital expertise with data and creativity had proved invaluable during 2020.
INSIGHT
Investors waiting for Fed long-end buying have to wait some more
Investors hoping the U.S. Federal Reserve would make a concerted push into longer-duration bonds at Wednesday's meeting did not get what were waiting for.
ANALYSTS' RECOMMENDATION
•
American Woodmark Corp (AMWD). Jefferies initiates coverage with buy rating and $111 target price, saying the company is poised to see sales accelerate and margins improve, with robust residential construction.

• Boyd Gaming Corp (BYD). JPMorgan raises target price to $52 from $49, based on the company's favorable localized/regional footprint predominantly focused on a drive-to, leisure gaming customer.

• Hilton Worldwide Holdings Inc (HLT). JPMorgan raises target price to $97 from $90, taking into account a reasonable level of global travel recovery post COVID-19, saying its near-term net rooms growth outlook is better, with a growing dependence on lower-risk conversions.

• Orion Engineered Carbons SA (OEC). Jefferies raises target price to $21 from $18, saying the company should benefit from positive demand trends in auto, tire and general industry.

• Stanley Black & Decker Inc (SWK). JPMorgan raises target price to $189 from $184, as the company raised its fourth-quarter organic sales guidance, led by stronger than expected trends at Tools & Storage across North America.
ECONOMIC EVENTS (All timings in U.S. Eastern Time)
0830 (approx.) Building permits number for Nov: Expected 1.550 mln; Prior 1.544 mln
0830 (approx.) Building permits change mm for Nov: Prior -0.1%
0830 (approx.) Housing starts number for Nov: Expected 1.530 mln; Prior 1.530 mln
0830 (approx.) Housing starts change mm for Nov: Prior 4.9%
0830 Initial jobless claims: Expected 800,000; Prior 853,000
0830 Jobless claims 4-week average: Prior 776,000
0830 Continues jobless claims: Expected 5.598 mln; Prior 5.757 mln
0830 (approx.) Philly Fed Business Index for Dec: Expected 20.0; Prior 26.3
0830 (approx.) Philly Fed 6M Index for Dec: Prior 44.30
0830 (approx.) Philly Fed Capex Index for Dec: Prior 25.50
0830 (approx.) Philly Fed Employment for Dec: Prior 27.20
0830 (approx.) Philly Fed Prices Paid for Dec: Prior 38.90
0830 (approx.) Philly Fed New Orders for Dec: Prior 37.90
1100 (approx.) KC Fed Manufacturing for Dec: Prior 20
1100 (approx.) KC Fed Composite Index for Dec: Prior 11
COMPANIES REPORTING RESULTS
FedEx Corp (FDX). Expected Q2 earnings of $4.01 cents per share
CORPORATE EVENTS (All timings in U.S. Eastern Time)
0830 ABM Industries Inc (ABM). Q4 earnings conference call
0830 Jabil Inc (JBL). Q1 earnings conference call
0900 General Mills Inc (GIS). Q2 earnings conference call
0930 Herman Miller Inc (MLHR). Q2 earnings conference call
1100 Lennar Corp (LEN). Q4 earnings conference call
1100 Sanderson Farms Inc (SAFM). Q4 earnings conference call
1400 Worthington Industries Inc (WOR). Q2 earnings conference call
1500 Factset Research Systems Inc (FDS). Annual Shareholders Meeting
1645 AAR Corp (AIR). Q2 earnings conference call
1730 FedEx Corp (FDX). Q2 earnings conference call
EXDIVIDENDS
Advance Auto Parts Inc (AAP). Amount $0.25
Air Lease Corp (AL). Amount $0.16
Altra Industrial Motion Corp (AIMC). Amount $0.06
Amkor Technology Inc (AMKR). Amount $0.04
Avient Corp (AVNT). Amount $0.21
Belden Inc (BDC). Amount $0.05
Douglas Dynamics Inc (PLOW). Amount $0.28
EnerSys (ENS). Amount $0.17
First Midwest Bancorp Inc (FMBI). Amount $0.14
Greif Inc (GEF). Amount $0.44
Hanover Insurance Group Inc (THG). Amount $0.70
Huntington Bancshares Inc (HBAN). Amount $0.15
Moelis & Co (MC). Amount $2.00
Nordson Corp (NDSN). Amount $0.39
Paccar Inc (PCAR). Amount $0.70
Prologis Inc (PLD). Amount $0.58
Renasant Corp (RNST). Amount $0.22
Sempra Energy (SRE). Amount $1.04
Systemax Inc (SYX). Amount $2.00
TTEC Holdings Inc (TTEC). Amount $2.14
(All analysts' estimates are according to I/B/E/S Refinitiv data)
PICTURE OF THE DAY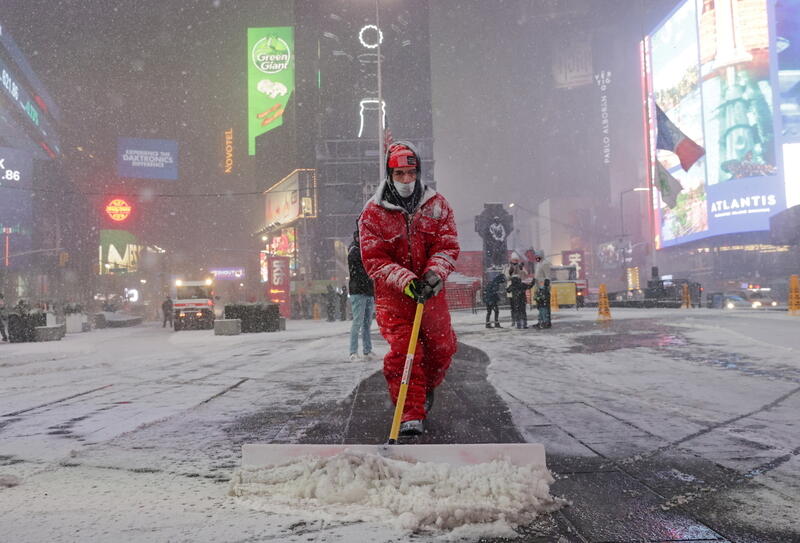 A worker clears snow as snow begins to fall in Times Square during a Nor'easter, during the coronavirus disease (COVID-19) pandemic in the Manhattan borough of New York City, New York, December 16. REUTERS/Jeenah Moon