USA EDITION
WEDNESDAY, FEBRUARY 10, 2021

TOP NEWS
• PREVIEW-With Disney shares near record high, investors eye streaming update
Walt Disney, which wowed investors in December with ambitious streaming TV plans, will update Wall Street on Thursday about its digital subscriber membership and the future of its pandemic-hobbled theme parks.
•
Coca-Cola quarterly revenue falls 5% on new pandemic restrictions
Coca-Cola reported a 5% fall in fourth-quarter revenue , as fresh pandemic curbs closed the doors of the soda maker's biggest sales drivers, such as restaurants, cinemas and sporting events, in many parts of the world.

• Bunge posts quarterly profit, warns of weak FY 2021 agribusiness earnings
U.S. agricultural commodities trader Bunge posted a profit for the fourth quarter, but warned of weak earnings in its agribusiness segment due to lower contributions from oilseed processing and origination in Brazil.

• Profits aside, GM's EV plans are driving a now-rising stock
General Motors is expected to report a healthy fourth-quarter profit thanks to strong demand for gas-burning pickup trucks and SUVs, but the company's future electric vehicles are now driving the stock, shareholders and analysts said.

• Pfizer could directly deliver COVID-19 shot to S.Africa vaccination points
Pfizer said it could deliver its COVID-19 vaccine, which requires ultra-cold temperatures for storage and distribution, directly to points of vaccination in South Africa.
BEFORE THE BELL
U.S. stock index futures edged higher as investors betted on prospects of a speedy economic recovery supported by fiscal stimulus and swift vaccine rollouts. European shares rose as upbeat earnings reports from firms including SocGen helped boost optimism around a broader economic rebound. Asian shares were higher on improving outlook for the global economy. The dollar was little changed, while gold prices climbed. Oil extended its rally supported by producer supply cuts and a recovery in demand. Consumer price inflation data is due later in the day.
STOCKS TO WATCH
Results
• America Movil SAB de CV: Mexican telecommunications firm reported a surprise net profit of 37.3 billion pesos in the fourth quarter, driven up nearly 80% by a favorable exchange rate. The company reported the bonanza despite sales falling by 3.1% from the same quarter last year to 255 billion pesos. Net profit rose to 37.3 billion pesos from 20.8 billion pesos for the same period a year earlier, an increase of 79.6%. The company cited exchange gains due to the strengthening of the Mexican peso against the U.S. dollar and the euro. "We added 6.8 million wireless subscribers in the quarter, double the number in the previous quarter... including 2.7 million mobile postpaid subscribers," the company said. Earnings before interest, tax, depreciation and amortization (EBITDA) grew 1.3% in peso terms during the period.

• Bunge Ltd: U.S. agricultural commodities trader posted a profit for the fourth quarter, but warned of weak earnings in its agribusiness segment due to lower contributions from oilseed processing and origination in Brazil. The company forecast full-year 2021 adjusted profit of at least $6 per share. It earned $8.30 per share in 2020. Net income attributable to Bunge stood at $3.74 per share, in the quarter ended Dec. 31, compared with a loss of 48 cents per a share, a year earlier. The company's revenue jumped nearly 17% to $12.61 billion.

• Cisco Systems Inc: The company reported a decline in revenue for a fifth straight quarter, as enterprise clients spent less on its network infrastructure products for offices due to the rise of remote working. The dour performance overshadowed a better-than-expected forecast for current-quarter revenue and sent the company's shares lower in extended trading. Chief Financial Officer Richard Herren said that the infrastructure platforms unit, whose sales fell 3% in the quarter, took the biggest hit from the COVID-19 pandemic. The company's total revenue fell slightly to $11.96 billion in the second quarter, from $12.01 billion a year earlier. Analysts were expecting a figure of $11.92 billion, according to IBES data from Refinitiv. Cisco said it expects third-quarter revenue to increase between 3.5% to 5.5%, which implies a range of $12.4 billion to $12.64 billion compared with analysts' estimates of $12.35 billion.
•
Coca-Cola Co: The company reported a 5% fall in quarterly revenue, as fresh pandemic curbs closed the doors of the soda maker's biggest sales drivers, such as restaurants, cinemas and sporting events, in many parts of the world. Organic sales, which strip out acquisition and currency impacts, fell 3% in the fourth quarter, the company said. Unit case volume, a key demand indicator, fell 3%, compared with a 4% fall in the preceding quarter. Net revenue fell to $8.61 billion in the three months ended Dec. 31, from $9.07 billion a year earlier.​
• Equinor ASA: The company has agreed to sell its assets in the U.S. Bakken shale oil province after a decade of multi-billion-dollar losses and criticism for poor investment decisions. Equinor will sell its entire Bakken acreage, located in the states of North Dakota and Montana to Grayson Mill Energy, a company backed by private equity firm EnCap Investments, for a total of around $900 million. "Equinor is optimising its oil and gas portfolio to strengthen profitability and make it more robust for the future," Chief Executive Anders Opedal said. "We are realising proceeds that can be deployed towards more competitive assets in our portfolio, enabling us to deliver increased value creation for our shareholders," he added. Equinor separately reported a record annual net loss of $5.5 billion for 2020, as the pandemic weighed on oil and gas prices and led to large write-downs. It also cut its planned capital expenditure for 2021-2022. Equinor reported adjusted fourth-quarter operating profit of $756 million, largely in line with forecasts by analysts, and will pay a quarterly dividend of $0.12 per share, one cent up from the third quarter, but down from $0.27 a year earlier.

• Lyft Inc: The company said it could make an adjusted profit by the third quarter of this year despite the pandemic thanks to additional cost cuts and an expected rebound in ride-hail demand beginning in the second quarter of 2021. "Based on the improvements we've made, there is a chance we can achieve profitability in the third quarter. Obviously, pulling in profitability would require a strong summer rebound," Lyft Chief Financial Officer Brian Roberts said during an investor call, adding the more optimistic outlook should increase investor confidence. The company reported roughly $570 million in fourth-quarter revenue, a 44% decline on a yearly basis, but an uptick of 14% compared with the third quarter. Analysts on average had expected the company to post revenue of $562 million, according to Refinitiv data. Lyft reported an adjusted EBITDA loss of $150 million in the fourth quarter. That compares with a $185 million loss projected by analysts on average.

• Mattel Inc: The toymaker beat fourth-quarter sales estimates as parents splurged on Barbie dolls and Hot Wheels cars for their children during a holiday season that was dulled by the COVID-19 pandemic. Mattel Chief Executive Officer Ynon Kreiz said, ""We do expect to deliver strong sales growth in the first half (of 2021) compared to last year, but it will probably be more challenging in terms of comparison in the second half." Mattel forecast currency-neutral net sales to rise by a mid-single-digit percentage in 2021, compared with a 3% increase in 2020. Analysts expect a 4.6% rise in sales this year, according to IBES data from Refinitiv. Mattel reported adjusted earnings of 40 cents per share, beating estimates of 23 cents per share. Mattel's overall net sales rose about 10% to $1.63 billion for the fourth quarter, beating analysts' estimates of $1.58 billion.

• Qiagen NV: U.S.-German genetic testing company reported better-than-expected fourth-quarter earnings, citing very strong demand for COVID-19 testing combined with improvements in non-COVID-19 areas of its portfolio. "Teams are working on regulatory submissions and expanding the use of key solutions in our COVID-19 portfolio that also have applications once the pandemic has subsided," Chief Executive Thierry Bernard said. For the fourth quarter, net sales rose 36% to $571.2 million on a currency-adjusted basis, beating the $539.14 million expected on average by analysts in a Vara Research poll. For the first quarter of 2021, Qizgen expects net sales to grow at least 45% at constant currencies, while adjusted earnings per share (EPS) should be between $0.60 and $0.62 compared to $0.34 a year earlier. The company also confirmed its guidance for 2021 adjusted EPS and net sales growth.

• Toyota Motor Corp: The automaker said it has an up to four-month stockpile of chips and was not immediately expecting a global chip shortage to hit production, as it jacked up its full-year earnings forecast by a bigger-than-expected 54%. "For the near term, we do not see any decrease in production volume due to the chip shortage, but we do see risks of a chip shortage," Chief Financial Officer Kenta Kon said during a briefing. For the fiscal year ending March 31, Toyota now expects record operating profit of 2 trillion yen, far higher than an earlier projection of 1.3 trillion yen, and well above an average 1.542 trillion yen profit forecast based on estimates from 23 analysts, Refinitiv data showed. Toyota said operating profit rose to 987.9 billion yen in the three months ended Dec. 31, versus an average 565.51 billion yen profit from nine analysts surveyed by Refinitiv SmartEstimate.

• Twitter Inc: The company beat Wall Street targets for quarterly sales and profit and followed its social media peers to forecast a strong start to 2021 as ad spending rebounds from a rock bottom. The solid beat, aided by ad product improvements, convinced investors to overlook a dull forecast for user growth, which Twitter expect to slow down to low double digits this year as a boost from the pandemic fizzles. Total revenue came in at a record $1.29 billion, an increase of 28% year over year. On an earnings call with analysts, CEO Jack Dorsey downplayed any impact from the much-debated January account closures. Net income rose to 27 cents per share, from 15 cents per share a year earlier. Excluding items, Twitter earned 38 cents per share, beating estimates of 31 cents. Twitter said it expected total revenue in the current quarter to be between $940 million and $1.04 billion. Meanwhile, U.S. social media giant locked horns with India saying a government order to remove some accounts was not consistent with Indian law while politicians urged followers to switch to rival local app Koo.
Deals Of The Day
• Match Group Inc: The company has agreed to buy Softbank Group-backed South Korean social media firm Hyperconnect for $1.73 billion, as the owner of Tinder and Hinge looks beyond romantic connections to help users make friends across geographies. The cash-and-stock deal announced by the companies marks the biggest acquisition deal so far by Match, which has kept users hooked to its offerings amid the COVID-19 pandemic by adding a slew of new features. "With more than 75% of usage and revenue coming from markets spread across Asia, their product suite and regional footprint squarely complements our own," Match Group Chief Executive Officer Shar Dubey said. The deal with Hyperconnect is expected to close in the second quarter of 2021, and Match looks to fund the cash portion through cash on hand and existing debt.
Moves
JPMorgan Chase & Co: The bank has hired former senior British politician Chuka Umunna to head up its environmental, social and governance (ESG) work in Europe, the Middle East and Africa. The appointment was announced within the bank in a memo seen by Reuters and reported earlier by the Financial Times. A JPMorgan spokesman confirmed the contents of the memo. The hiring makes Umunna one of Britain's most senior Black bankers. He joins JPMorgan from PR company Edelman, where he co-led its ESG consultancy. Umunna was a senior figure in the main opposition Labour party before leaving to help found the short-lived Change UK party. He later joined the Liberal Democrats.
In Other News
• Apple Inc & Taiwan Semiconductor Manufacturing Co: Apple has partnered with TSMC to develop micro OLED displays, which it plans to use in its upcoming augmented reality (AR) devices, Nikkei Asia reported. Apple is collaborating with TSMC, the sole supplier of iPhone processors, as micro OLED displays are far thinner, smaller and use less power, making them more suitable for use in wearable AR devices, the report said. The displays under development are less than 1 inch in size, Nikkei added. The micro OLED project with TSMC is currently at the trial production stage and will take several years to achieve mass production, according to Nikkei. TSMC declined to comment, while Apple did not immediately respond to a Reuters request for comment.

• Austerlitz Acquisition Corp I and II: Serial Wall Street investor Bill Foley confirmed plans to raise $1.5 billion by taking two blank-check firms public, the latest in a series of deals involving special purpose acquisition companies. The SPACs, named Austerlitz Acquisition Corp I and II, are aiming to raise $500 million and $1 billion, respectively, by selling shares and units. Foley is among Wall Street's most prolific investors and has raised billions so far through multiple blank-check firms.
• Boeing Co: Emirates Airlines President Tim Clark said on Wednesday Boeing's 777x jet was unlikely to be delivered before the first quarter of 2024. The company has been developing the widebody jet, a new version of its 777 series, with the goal of releasing it in late 2023, already three years later than planned. "The 777x was due to come in June of last year, Now it's unlikely to be, I think, before the first quarter of 2024," Clark told a virtual summit by aviation consultancy CAPA. A Boeing spokeswoman told Reuters the planemaker still anticipated 777x deliveries to start in late 2023.

• Carlyle Group Inc: Global private equity firm Carlyle withdrew its bid to buy energy and environment firm Japan Asia Group (JAG) in a deal worth 48 billion yen, as a Japanese activist fund beat its offer. "The bid did not attract minimum shares needed to succeed so we are going to cancel the bid," Caryle said. Carlyle teamed up with JAG's chairman and CEO Tetsuo Yamashita in November to launch a management buyout. But the activist fund backed by veteran investor Yoshiaki Murakami made a counterbid. The investment arm had said Carlyle's offer was too low and allowed the CEO to gain significant benefit at the expense of minority shareholders.

• Chevron Corp: About 600 gallons of petroleum and water mixture that leaked from the company's wharf at its Richmond, California, oil refinery has been contained, according to the regional air pollution regulator's official twitter account. The investigation is ongoing, the Bay Area Air Quality Management District (BAAQMD) said in a tweet. Chevron in an emailed response said a sheen was observed at around 3 p.m. (2300 GMT) on the water near the wharf at its 245,271 barrel-per-day Richmond refinery. The release was stopped, while clean up was ongoing, it added. "We have issued a community notice and ask the public to remain clear of the area so crews can quickly contain and clean up the released volumes," the company said, adding, it is working with the U.S. Coast Guard and the Office of Spill Prevention and Response (OSPR).

• Eli Lilly and Co: The company's combination antibody therapy to fight COVID-19 has been granted emergency use authorization by the U.S. Food and Drug Administration, Lilly said. Lilly's combination therapy of two antibodies, bamlanivimab and etesevimab, helped cut the risk of hospitalization and death in COVID-19 patients by 70%, data from a late-stage trial showed in January. Lilly said the therapy will be available immediately. "There are 100,000 doses ready immediately and an additional 150,000 doses will be available throughout the first quarter," Lilly said. It also said " the therapy is authorized for the treatment of mild to moderate COVID-19 in patients aged 12 and older who are at high risk for progressing to severe COVID-19 and/or hospitalization."

• Exxon Mobil Corp: The oil major said it will close its 72-year-old Altona refinery in Australia, the country's smallest, and convert it to a fuel import terminal as refiners struggle with low demand. The decision by the company will leave Australia with only two refineries, after BP decided to shut its Kwinana facility by April. Ampol is still reviewing the future of its Lytton refinery. "ExxonMobil's decision to close its Altona refinery in Victoria is extremely disappointing," said Angus Taylor, the Australian minister for energy and emissions reduction. Taylor said the closure of Exxon's refinery would not negatively impact Australian fuel stockholdings.

• General Motors Co: United Auto Workers (UAW) President Rory Gamble held a virtual meeting last week with a top White House environmental official as the Biden administration moves to reverse the rollback in vehicle emissions rules adopted under then President Donald Trump. A spokesman for the Detroit-based union confirmed Gamble met with White House domestic climate change adviser Gina McCarthy and other members of the Biden Administration. "It was a very open and positive dialogue," Gamble said in a statement, praising the Biden administration's "commitment to regular dialogue with the UAW." The Biden administration has started discussions with the automobile sector about reducing greenhouse gas emissions, McCarthy told Reuters last week. McCarthy also spoke recently to General Motors' Chief Executive Mary Barra about the Detroit automaker's aspiration to halt sales of all gas- and diesel-powered vehicles by 2035, the automaker confirmed.

• Johnson & Johnson: The company's Chief Executive Officer Alex Gorsky told CNBC that people may need to get vaccinated against COVID-19 annually over the next several years, like seasonal flu shots. "Unfortunately, as (the virus) spreads it can also mutate," he said in an interview. "Every time it mutates, it's almost like another click of the dial so to speak where we can see another variant, another mutation that can have an impact on its ability to fend off antibodies or to have a different kind of response not only to a therapeutic but also to a vaccine," he added. Gorsky told CNBC the company was "extremely confident" that it will meet its target to deliver 100 million doses of its coronavirus vaccine to the United States by the end of June.

• New Frontier Health Corp: The company said it received an offer to be bought out by a consortium of investors in a deal that values the healthcare service provider at nearly $1.72 billion. The company said in a statement it received a preliminary non-proposal binding letter from a buyer-group, including President Carl Wu, Carnival Investments, Vivo Capital Fund IX, Max Rising International Ltd, a company affiliated with Carl Wu, among others to "go private". The group offered to acquire outstanding shares of New Frontier Health, which operates private hospitals, outpatient clinics and medical centers, for $12 in cash, representing a premium of 23.6% to the company's closing price on Tuesday.

• Pfizer Inc: The pharmaceuticals company said it could deliver its COVID-19 vaccine, which requires ultra-cold temperatures for storage and distribution, directly to points of vaccination in South Africa. South Africa is scrambling to secure supplies after the AstraZeneca's vaccine it planned to use to kick off its immunisation campaign had greatly reduced efficacy against the COVID-19 virus variant now dominant in the country. Pfizer said it had allocated vaccine doses to South Africa and was currently in discussions with the government. "We are enabling direct shipment to the point of vaccination in a thermal shipper that will maintain the ultra-low temperature required for up to 10 days unopened," Pfizer told Reuters. "We have experience in distributing, storing and administering the vaccine in our Phase 3 trial sites around the world (including South Africa) so we already know that the processes we are using work, and patients are able to be dosed at the points of vaccination," Pfizer said.

• Talos Energy Inc: A consortium of Talos Energy, private equity firm EIG Global Energy Partners, Enauta Participacoes and 3R Petroleum Oleo e Gas has submitted a non-binding offer for Brazilian oilfields Albacora and Albacora Leste, four sources familiar with the matter told Reuters. The exact value of the bid submitted to Brazil's state-led oil company Petrobras was unclear, though the asset is likely to fetch in the billions of dollars, said two of the sources, who requested anonymity to discuss confidential talks. The bid was officially submitted on Monday, one source said. The bid marks a change of strategy for Talos, which is active only in the Gulf of Mexico. In recent years, Talos has attempted to negotiate a so-called unitization agreement with Mexican national oil company Pemex over the offshore Zama discovery, which the Houston-based company announced in 2017. Pemex claims most of the nearly 700-million-barrel find is in its adjacent field, and talks have been an enduring headache for Talos.

• Telsa Inc: A Reddit user who claimed in a post a month ago to be Tesla's insider and knew about the electric car maker's purchase of bitcoin said that his assertions were not true. The user's original post stating Tesla was buying bitcoin drew little attention when it appeared Jan. 2. But it received a second look Wednesday, a day after the electric carmaker and its CEO Elon Musk disclosed a $1.5 billion investment in the cryptocurrency that sent bitcoin to fresh highs. Reuters could not independently verify the user's identity or whether his initial or subsequent claims were accurate. Tesla did not respond to an email to its press office.
INSIGHT
Elon Musk wants clean power. But Tesla's carrying bitcoin's dirty baggage
Tesla boss Elon Musk is a poster child of low-carbon technology. Yet the electric carmaker's backing of bitcoin this week could turbo-charge global use of a currency that's estimated to cause more pollution than a small country every year.
ANALYSTS' RECOMMENDATION
• Cisco Systems Inc: Piper Sandler raises target price to $47 from $45, citing the company's higher revenue growth guidance and better-than-expected EPS forecast.

• Lyft Inc: Jefferies raises target price to $75 from $70, stating the company's cost optimization startegies and positive EBITDA outlook.

• Playtika Holding Corp: Wedbush initiates coverage with outperform rating and target price of $42, citing the company's strong product portfolio and higher EBITDA estimates.

• Twitter Inc: Canaccord Genuity raises target price to $65 from $58, citing the company's strong fourth-quarter results and higher revenue growth forecast.
ECONOMIC EVENTS (All timings in U.S. Eastern Time)
0830 (approx.) Core CPI mm, SA for Jan: Expected 0.2%; Prior 0.1%
0830 (approx.) Core CPI yy, NSA for Jan: Expected 1.5%; Prior 1.6%
0830 (approx.) CPI Index, NSA for Jan: Expected 261.790; Prior 260.474
0830 (approx.) Core CPI Index, SA for Jan: Prior 270.12
0830 (approx.) CPI mm, SA for Jan: Expected 0.3%; Prior 0.4%
0830 (approx.) CPI yy, NSA for Jan: Expected 1.5%; Prior 1.4%
0830 (approx.) Real weekly earnings mm for Jan: Prior 0.1%
0830 (approx.) CPI mm NSA for Jan: Prior 0.090%
0830 (approx.) CPI Index SA for Jan: Prior 261.780
0830 (approx.) CPI Wage Earner for Jan: Prior 254.081
1000 (approx.) Wholesale inventory, R mm for Dec: Expected 0.1%; Prior 0.1%
1000 (approx.) Wholesale sales mm for Dec: Expected 0.5%; Prior 0.2%
1100 (approx.) Cleveland fed CPI for Jan: Prior 0.1%
1100 Refinitiv Ipsos Pcsi for Feb: Prior 50.87
1400 Federal budget for Jan: Expected -$150.00 bln; Prior -$144.00 bln
COMPANIES REPORTING RESULTS
Cerner Corp: Expected Q4 earnings of 78 cents per share
Cincinnati Financial Corp: Expected Q4 earnings of $1.19 per share
Equifax Inc: Expected Q4 earnings of $1.83 per share
Equinix Inc: Expected Q4 earnings of $1.53 per share
Equity Residential: Expected Q4 earnings of 24 cents per share
General Motors Co: Expected Q4 earnings of $1.64 per share
International Flavors & Fragrances Inc: Expected Q4 earnings of $1.19 per share
Lumen Technologies Inc: Expected Q4 earnings of 30 cents per share
MGM Resorts International: Expected Q4 loss of 90 cents per share
O'Reilly Automotive Inc: Expected Q4 earnings of $5.13 per share
Paycom Software Inc: Expected Q4 earnings of 79 cents per share
Trimble Inc: Expected Q4 earnings of 51 cents per share
Western Union Co: Expected Q4 earnings of 42 cents per share
CORPORATE EVENTS (All timings in U.S. Eastern Time)
0800 Assurant Inc: Q4 earnings conference call
0800 Bunge Ltd: Q4 earnings conference call
0800 PTC Inc: Annual Shareholders Meeting
0830 CDW Corp: Q4 earnings conference call
0830 CME Group Inc: Q4 earnings conference call
0830 Coca-Cola Co: Q4 earnings conference call
0830 Interpublic Group of Companies Inc: Q4 earnings conference call
0830 Under Armour Inc: Q4 earnings conference call
0900 Crown Holdings Inc: Q4 earnings conference call
0900 Euronet Worldwide Inc: Q4 earnings conference call
0900 FMC Corp: Q4 earnings conference call
0900 Iqvia Holdings Inc: Q4 earnings conference call
0900 Welltower Inc: Q4 earnings conference call
1000 General Motors Co: Q4 earnings conference call
1000 Primerica Inc: Q4 earnings conference call
1000 Tenet Healthcare Corp: Q4 earnings conference call
1000 Voya Financial Inc: Q4 earnings conference call
1100 Eastgroup Properties Inc: Q4 earnings conference call
1200 Ares Capital Corp: Q4 earnings conference call
1200 Healthpeak Properties Inc: Q4 earnings conference call
1300 UDR Inc: Q4 earnings conference call
1400 Douglas Emmett Inc: Q4 earnings conference call
1400 Penske Automotive Group Inc: Q4 earnings conference call
1630 Altice USA Inc: Q4 earnings conference call
1630 ASGN Inc: Q4 earnings conference call
1630 Cerner Corp: Q4 earnings conference call
1630 Pacific Biosciences of California Inc: Q4 earnings conference call
1630 Uber Technologies Inc: Q4 earnings conference call
1630 Western Union Co: Q4 earnings conference call
1700 Avalara Inc: Q4 earnings conference call
1700 Bloom Energy Corp: Q4 earnings conference call
1700 Envista Holdings Corp: Q4 earnings conference call
1700 Exelixis Inc: Q4 earnings conference call
1700 Lumen Technologies Inc: Q4 earnings conference call
1700 MGM Resorts International: Q4 earnings conference call
1700 Paycom Software Inc: Q4 earnings conference call
1700 Qualys Inc: Q4 earnings conference call
1700 SS&C Technologies Holdings Inc: Q4 earnings conference call
1700 Trimble Inc: Q4 earnings conference call
1700 Zillow Group Inc: Q4 earnings conference call
1700 Zynga Inc: Q4 earnings conference call
1730 Equinix Inc: Q4 earnings conference call
EX-DIVIDENDS
Donaldson Company Inc: Amount $0.21
Resmed Inc: Amount $0.39
TJX Companies Inc: Amount $0.26
Valero Energy Corp: Amount $0.98
Westrock Co: Amount $0.20
(All analysts' estimates are according to I/B/E/S Refinitiv data.)
PICTURE OF THE DAY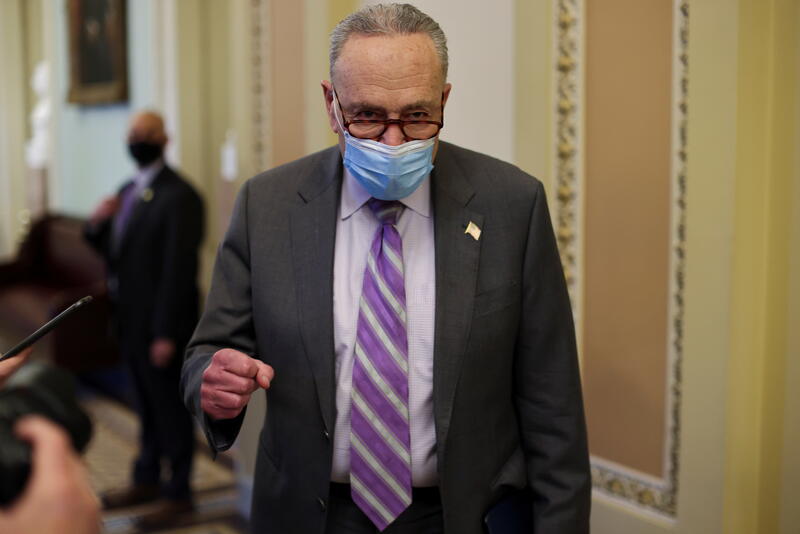 U.S. Senate Majority Leader Chuck Schumer (D-NY) gestures as he walks of the Senate floor after the U.S. Senate voted to proceed with an impeachment trial of former U.S. President Donald Trump on charges of inciting the deadly attack on the U.S. Capitol, on Capitol Hill in Washington, February 9. REUTERS/Jonathan Ernst