Oil | Agriculture | Metals | Carbon & Power |Dry Freight
Brace for huge oil volatility, U.S. trading group says
Oil prices are likely to be extremely volatile in the next few years, driven by supply constraints rather than demand as financing for new production evaporates in favour of renewables, U.S.-based Castleton Commodities International said. "You could see spikes to even higher than $100 a barrel, even $130, and you could also see it go down to $35 a barrel for periods of time going forward," William Reed II, CEO of Castleton, told the FT Global Commodities Summit.
China's refinery output hits record as margins improve on new taxes
China's refinery throughput rose 4.4% in May from the same month a year ago to a record high, as margins improved on the back of easing supplies of blending stocks after Beijing announced new taxes. The country processed 60.50 million tonnes of crude oil last month, data from the National Bureau of Statistics (NBS) showed on Wednesday, equivalent to 14.25 million barrels per day (bpd).
EXCLUSIVE-Argentine meat packers reach preliminary export deal with government, says source
Argentine meat packers have reached a preliminary deal with the government that will allow them to partially reopen beef exports after a month-long suspension aimed at cutting domestic food price inflation, an industry source said on Wednesday. Argentina, China's second-biggest beef supplier after Brazil, halted exports for a month in mid-May as it grapples with fast rising domestic food prices. Meat packers have been negotiating a way to lift the curbs amid fears they could be extended.
POLL-Black Sea wheat exports seen up 5% in 2021/22
Wheat exports from Russia, Ukraine and Kazakhstan will rise in 2021/22, a Reuters poll showed, driven by high crops and stockpiles as well as increased global demand. The group, which exports its wheat mainly via the Black Sea to customers in Africa and the Middle East, faces tougher competition. In its main peer the European Union prospects for this year's crop are also good.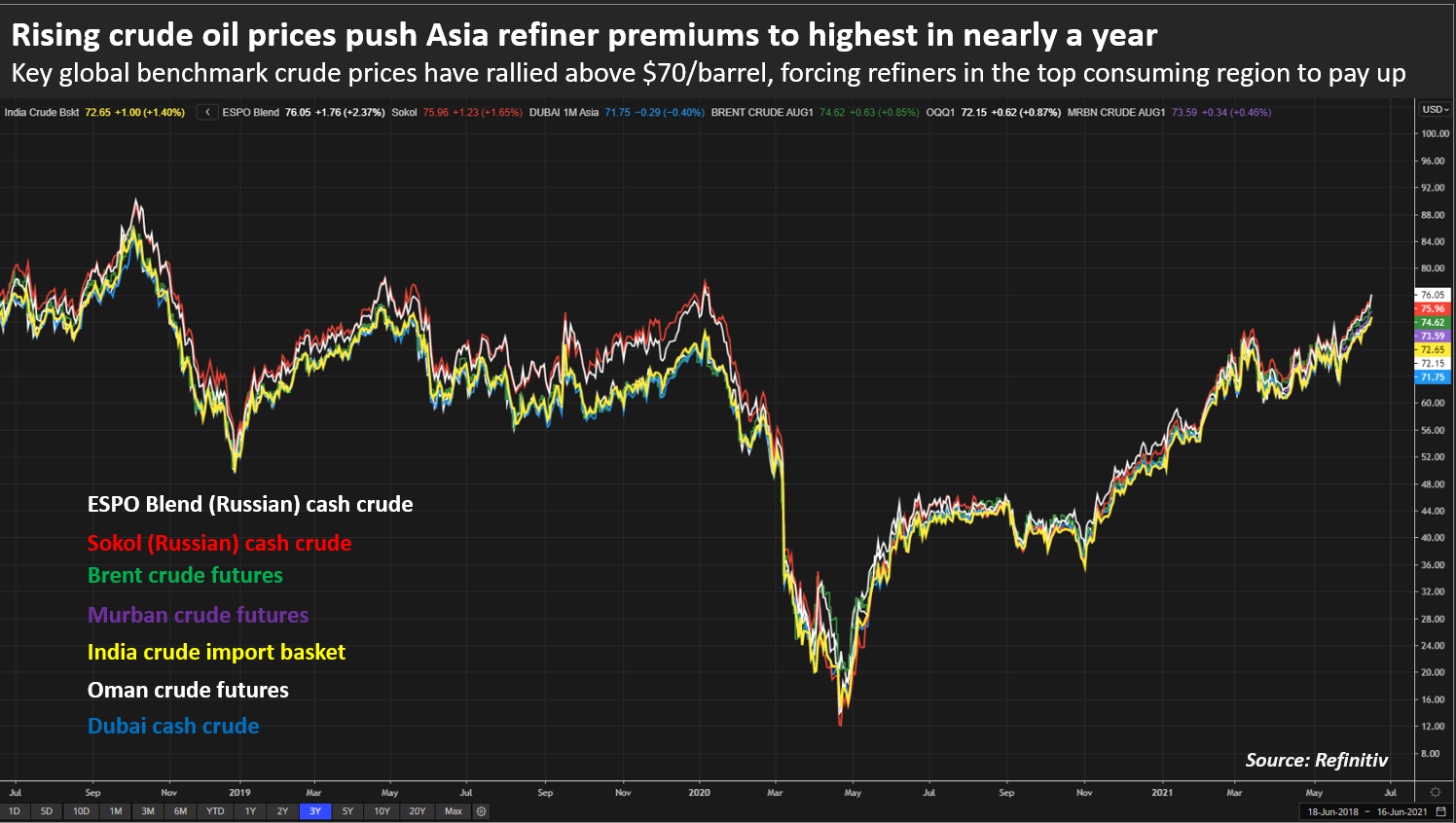 Vale, BHP propose 1.2 bln reais DIP financing for Samarco, creditors oppose
Bankrupt miner Samarco Mineracao SA plans to receive a 1.2 billion reais ($238 million) debtor-in-possession loan extended by controlling shareholders Vale SA and BHP Group Ltd, according to court documents reviewed by Reuters. But a group representing 80% of Samarco's debt excluding Vale and BHP oppose the move, saying the DIP financing goal would be to protect Vale and BHP assets. Among these creditors are York Global Finance, Ashmor, Solus and City National.
COLUMN-Learning to live with (talk of) Chinese state metal sales: Andy Home
This time last year China's state stockpile managers were under pressure to buy up metal from local producers reeling from the impact of coronavirus. Prices had just slumped to multi-year lows as the world's largest user went into lockdown. Fast forward a year and the same stockpile managers are now being instructed to sell metal as Chinese policy-makers try and dampen the effects of the remarkable price rally that has since unfolded.
EU eyes tighter rules for 'renewable' biomass energy - draft
The European Union is considering tightening rules on whether wood-burning energy can be classed as renewable and count towards green goals, according to a draft document seen by Reuters on Wednesday. The aim is to protect delicate ecosystems like old growth forests and stop wood fit for other purposes, like making furniture, from ending up as pellets or chips burned to produce biomass energy.
Price agency Platts launches carbon-neutral LNG assessment
Commodity price agency S&P Global Platts said on Wednesday it has launched a daily carbon-neutral liquefied natural gas (LNG) price assessment, to track the cost of carbon credits bought and retired to offset carbon emissions from LNG trade. "We are already seeing LNG consumers around the world demand action on emissions associated with LNG use amid an increasingly carbon-conscious economy," said Platts' global director of LNG pricing Ciaran Roe.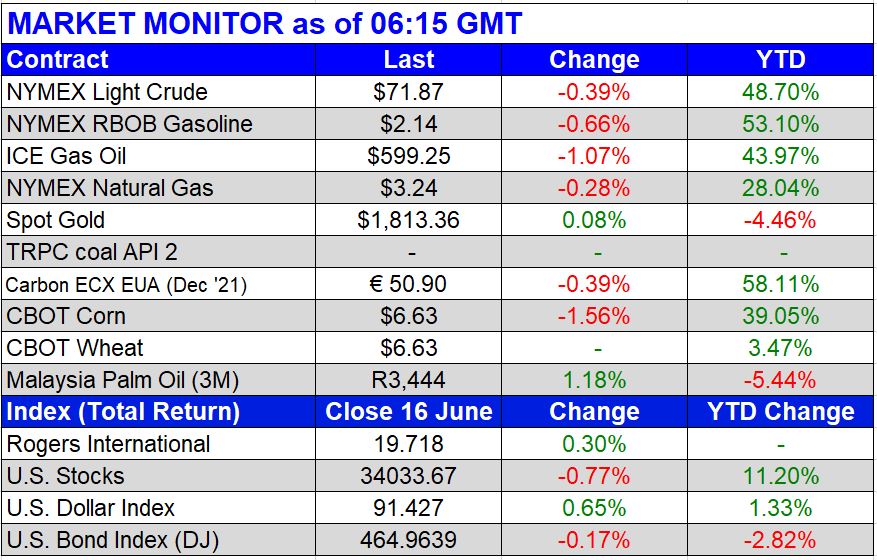 Egypt's GASC amends wheat tender book to allow suppliers to present shipment bids
Egypt's state grains buyer, the General Authority for Supply Commodities (GASC) on Wednesday amended its tender book for international wheat purchases to allow suppliers to directly present shipment bids for their cargoes, a document seen by Reuters showed. The change comes after GASC cancelled its latest wheat tender on Tuesday, a move many traders attributed to high shipping prices presented at the tender.
South Korea's KFA bought about 60,000 tonnes corn in private deal
The Korea Feed Association (KFA) purchased an estimated 60,000 tonnes of corn expected to be sourced from South America in a private deal on Tuesday without an international tender being issued, European traders said on Wednesday. The corn was purchased by the KFA's Busan section at an estimated $315.00 a tonne c&f plus a $1.50 a tonne surcharge for additional port unloading.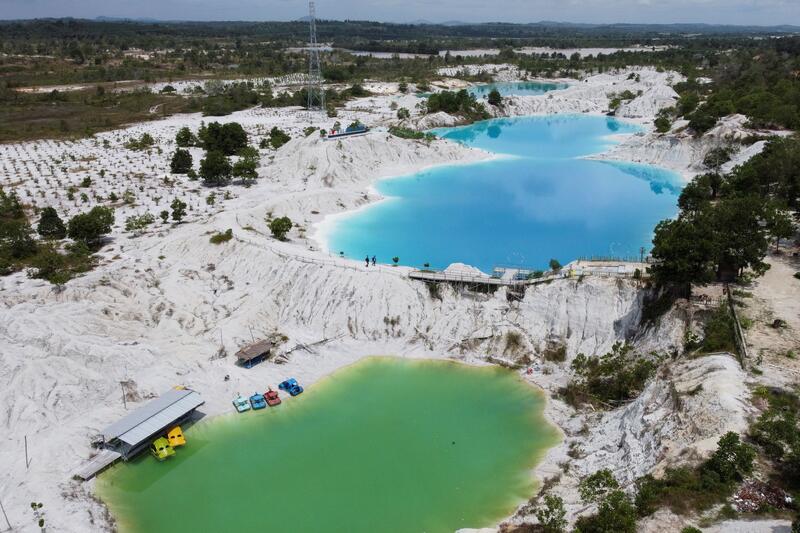 An aerial view shows a lake known as Kulong Biru (blue lake) in Koba, on the island of Bangka, Indonesia. Deposits in the mining hub of Bangka-Belitung have been heavily exploited on land, leaving parts of the islands off the southeast coast of Sumatra island resembling a lunar landscape with vast craters and highly acidic, turquoise lakes. Picture taken with a drone. REUTERS/Willy Kurniawan