Oil | Agriculture | Metals | Carbon & Power |Dry Freight
GRAPHIC-How much extra oil could OPEC+ pump to cool prices?
Saudi Arabia and the United Arab Emirates are among the few oil producers globally with spare capacity they could draw on quickly to increase output, help offset supply losses from Russia or elsewhere and ease prices, analysts say. According to the International Energy Agency, the two Gulf OPEC producers hold about 1.8 million barrels per day of "short-order" spare capacity, equal to almost 2% of world demand and almost all the total 2.2 million bpd of such capacity available.
U.S. seizing tankers has failed to stop Iran's oil exports, minister says
The U.S. seizure of Iranian tankers in recent months has not stopped sanctions-hit Tehran from increasing oil exports, Iran's oil minister was quoted as saying on Saturday. "The United States has on several occasions in the past months violated Iranian oil tankers to prevent export of shipments," Javad Owji said in an interview carried by Iranian media.
Argentina halts export registration for soy oil, meal
Argentina has halted registration of export sales of soy oil and meal, the South American country's government said in a statement on Sunday, drawing swift condemnation from the industry in the world's top exporter of processed soy products. The move stops sales and exports of the 2021/22 crop, but physical shipments have not started because no harvesting has taken place. The decision by Argentina, the top global exporter of both soybean meal and oil, will likely roil the world soy market, which has seen prices spike on Russia's invasion of Ukraine.
INSIGHT-Ukraine's farmers stalled, fueling fears of global food shortages
The Russian invasion of Ukraine threatens millions of tiny spring-time sprouts that should emerge from stalks of dormant winter wheat in the coming weeks. If the farmers can't feed those crops soon, far fewer of the so-called tillers will spout, jeopardizing a national wheat harvest on which millions in the developing world depend. The wheat was planted last autumn, which, after a brief growing period, fell dormant for the winter. Before the grain returns to life, however, farmers typically spread fertilizer that encourages the tillers to grow off the main stalks. Each stalk can have three or four tillers, increasing the yield per wheat stalk exponentially.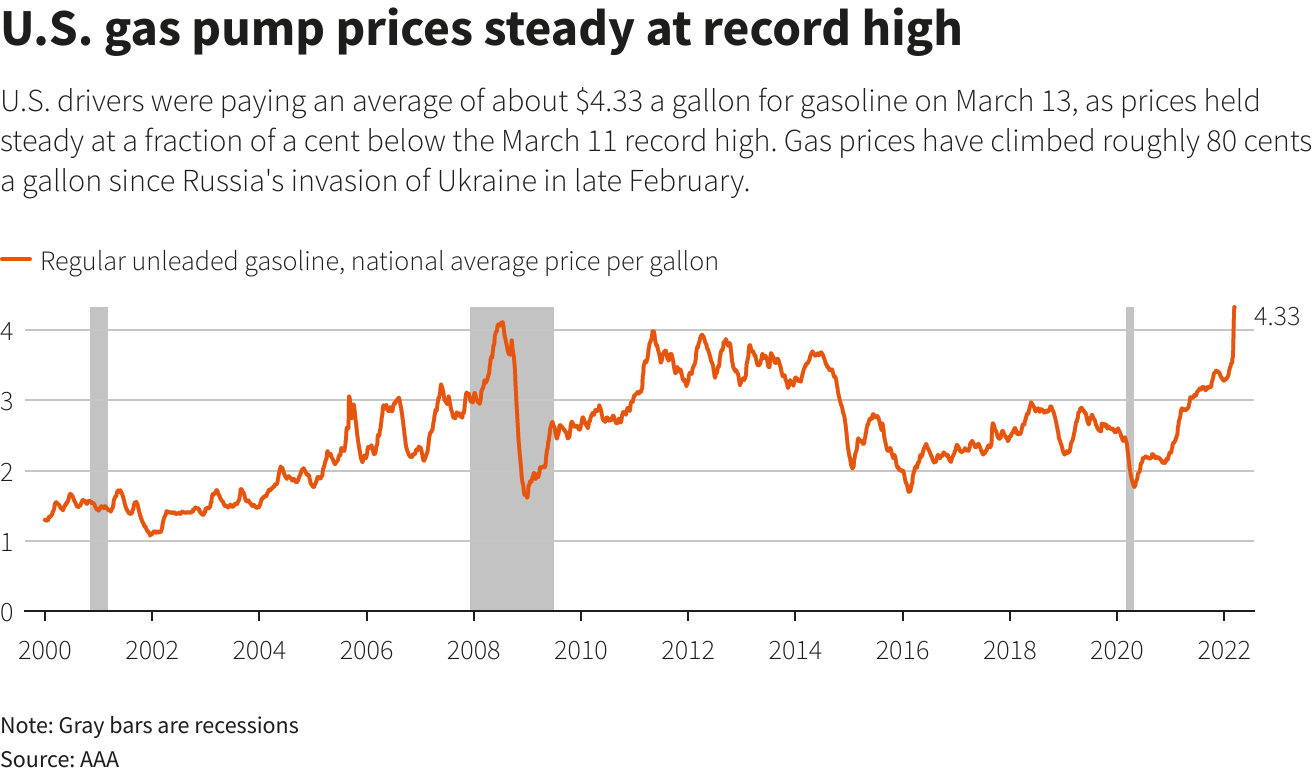 FOCUS-Chinese tycoon's 'big short' on nickel trips up Tsingshan's miracle growth
Chinese tycoon Xiang Guangda has to find a way to bail his Tsingshan Holding Group out of a crisis after its bet on nickel prices backfired, fuelling more volatility in a metal essential for the electric vehicles industry. One of the world's top nickel producers faces massive losses on its short positions after prices soared over $100,000 per tonne last week and forced the London Metal Exchange to halt nickel trading.
EXCLUSIVE-India will ensure steady coking coal cargoes to allay supply concerns
India will take steps to ensure a steady supply of coking coal for domestic steel companies, which are struggling with cargo disruptions and rocketing prices in the wake of Russia's invasion of Ukraine. "We are discussing amongst ourselves, and we will definitely chalk out some plan on how to deal with this situation," India's Steel Minister Ram Chandra Prasad Singh told Reuters in an interview.
Australian billionaires put more money into $15 bln solar power export project
Australia's two richest men joined a A$210 million ($152 million) capital raising for an ambitious project to supply Singapore with solar power via an undersea cable, the company said on Monday. Private companies of Andrew Forrest, founder of iron ore giant Fortescue Metals Group Ltd, and Mike Cannon-Brookes, co-founder of software maker Atlassian Plc, upped their investments, the parties said, as the Sun Cable project inches toward becoming a supplier of renewable energy to the region.
EXCLUSIVE-BP, Eni clinch deal on Angola joint venture
Eni and BP have completed a deal to merge their oil and gas operations in Angola, the groups said on Friday, confirming what sources earlier exclusively told Reuters. The deal will create a company called Azule Energy that is expected to be Angola's largest producer with stakes in 16 licences and in the Angola LNG joint venture.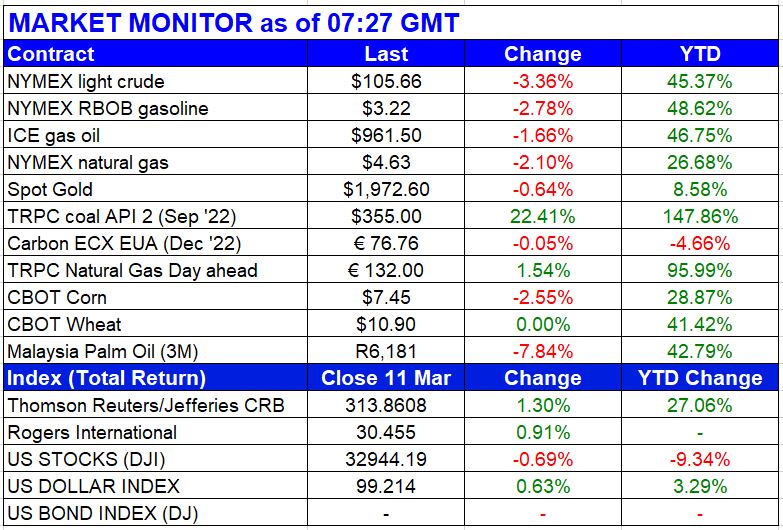 Ukraine bans fertiliser exports - agriculture ministry
Ukraine, a major global producer of agricultural products, has banned exports of fertilisers given the Russian invasion, the agriculture ministry said on Saturday. Ukraine has already banned exports of some agricultural commodities and introduced licenses for its key export goods - wheat, corn and sunflower oil.
Tunisia buys soft wheat and feed barley in tender - traders
Tunisia's state grains agency is believed to have purchased about 125,000 tonnes of soft wheat and about 100,000 tonnes of animal feed barley in an international tender that closed on Friday, European traders said. The wheat was bought in five consignments each of about 25,000 tonnes. Trading house Casillo sold four at $491.68, $499.69, $505.68 and $508.89 per tonne c&f. Cargill sold one at $497.25 a tonne c&f, traders estimated.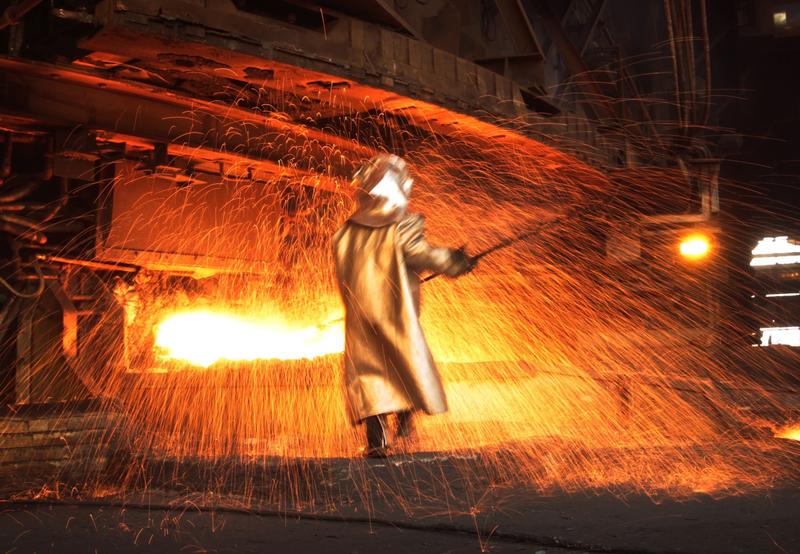 A worker processes nickel at a nickel smelter of PT Vale Tbk, near Sorowako, Indonesia's Sulawesi island. REUTERS/Yusuf Ahmad